Airbus Still Expects an On-Time Arrival for the A350
by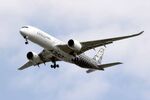 The Airbus A350, the European consortium's answer to the popular carbon-fiber aircraft made by Boeing, is progressing apace and remains on track to be delivered this year.
Airbus reported upbeat results Tuesday on the recent flight testing of its initial four A350s, with plans for a fifth to take to the air next month. The program has accumulated more than 1,600 flight hours since the first A350 flew in June, and the company plans to conduct about 2,500 hours of tests. Airbus said the A350 passed water-ingestion tests this week in France to ensure that operating in heavy rains would not affect its performance.
Airbus hopes to obtain certification from regulators for the airplane in the third quarter. Qatar Airways, the largest buyer of the model, is scheduled to receive the first A350 in December. Like its rival predecessor, Boeing's 787 Dreamliner, the A350 promises airlines an efficiency boost through the carbon-fiber composites used in construction, which make the aircraft lighter and allow it to burn less fuel.
Airbus is closely targeting the A350′s production costs, trying to reduce the assembly time for each airplane, Chief Financial Officer Harald Wilhelm told analysts on a conference call. "To get to the target growth means on the make side that you have to reduce the hours spent on each aircraft significantly," he said. "Again, that's what the learning curve is about. That's not a walk in the park that requires improvements, and these are the ones that we are chasing and pushing through on the early aircraft."
The company on Tuesday reported first-quarter profit rose to €700 million (), topping analyst forecasts, and said it was on track to break even next year on the troubled A380 program, which suffered delays and massive cost overruns before its 2007 introduction. The twin-deck plane is Airbus's most expensive model and the largest in commercial aviation fleets, seating more than 800 people in certain configurations.
Airbus is also considering a new engine refit for its wide body Airbus A330 model, which is facing sparse production after 2015 due to the popularity of newer models such as the 787 and A350. Several Airbus A330 customers have said they would like a new, more fuel-efficient version of that plane and Airbus intends to decide this year whether to proceed. "I think this is encouraging, but we need to do our homework," Wilhelm said.
Before it's here, it's on the Bloomberg Terminal.
LEARN MORE