A Warning Shot for Hedge Funds
by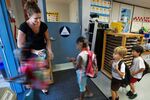 The struggles of hedge funds to keep pace with simpler, cheaper market investments have been fun to watch for years. The "smart money" industry recently posted its worst first-quarter results since 2008, part of a running trend in which it has trailed the Standard & Poor's 500-stock index in rising times and failed to deliver significant improvements during negative stretches.
For hedge fund managers, who typically charge a 2 percent management fee in addition to a 20 percent cut of profits, the underperformance is somewhat academic as long as investor dollars keep pouring in. The industry's total assets under management hit $2.931 trillion in the first quarter, according to researcher EVestment, just $7 billion off its all-time high before the financial crisis. (The level would have reached a new record if it weren't for, yep, poor results.)
So here's a headline that should seize their attention: CalPERS, the gargantuan $289 billion entity that oversees California state workers' retirement funds, is considering cutting in half its allocations to hedge funds, according to Pensions & Investments, citing anonymous sources. That cuts against a trend that saw pension plans across the country increase hedge fund allocations more than 20 percent last year, the news outlet said. Last year, CalPERS indicated it could reduce allocations to funds of funds—which, as the name suggests, carry extra management fees, even as they consistently fail to yield better returns. If CalPERS does indeed trim its hedge fund investments, it could lead other huge pension funds and university endowments to reconsider the asset class. And this might finally attract the attention of the industry's exceedingly well-paid managers.
Before it's here, it's on the Bloomberg Terminal.
LEARN MORE