UniCredit Chief Ghizzoni Says Ukraine Solution Needed
Sonia Sirletti and Flavia Rotondi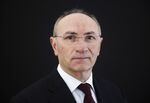 UniCredit SpA Chief Executive Officer Federico Ghizzoni said a solution to the "tense and complicated" crisis in Ukraine is needed to avoid harming business in Europe.
"I hope that at the end of the day common sense will prevail on both sides, in Ukraine but also in Russia versus Europe and the U.S.," Ghizzoni said in an interview with Bloomberg Television in Rome late yesterday. "Diplomacy must work hard in order to find a solution."
UniCredit is the largest lender in the former communist part of Europe, the second-biggest foreign bank in Russia and one of the largest in Ukraine. The Russian business is still growing, the 58-year-old CEO said, adding that "we haven't seen a translation yet from political difficulties to business difficulties."
The Russian unit generated 111 million euros ($153 million) of pretax profit in the first quarter, 27 percent less than a year earlier, the Milan-bank said yesterday.
"The first quarter is quite promising because the core revenues on net interest income and fees are still up 6 percent quarter on quarter," Ghizzoni said of the Russia unit. "We have seen the first effects in terms of trading business, which is down versus previous months."
Ukrainian Unit
In Brussels, the European Union imposed sanctions on companies in Crimea for the first time yesterday and threatened more measures, along with the U.S., to target Russian industries.
Ghizzoni, who is seeking to sell UniCredit's Ukrainian unit as part of the bank's disposal plan, said discussions with two potential bidders are continuing, "even if it's difficult to say when and if the sale will be completed."
UniCredit, Italy's largest bank, reported 600 million euros of charges related to its Ukrainian subsidiary in the fourth quarter, when it classified the unit as available for sale.
"The business in Ukraine doesn't create major problems so we can afford to wait," Ghizzoni said. "We will see. It's difficult to predict."
Bad Loans
The lender said yesterday first-quarter profit rose 59 percent after it set aside less money for bad loans and costs declined. The CEO is focusing on the bank's core markets including Italy and Germany, reducing risks, cutting jobs and selling non-strategic assets.
"Post fourth-quarter cleanup, UniCredit is a visible restructuring story," analysts at Mediobanca SpA, including Andrea Filtri, wrote in a note today. The bank posted better revenue and cost figures, even if foreign-exchange "played a large, negative role in the first quarter," with central and eastern Europe pre-provision earnings down 30 percent on a quarterly basis.
UniCredit was little changed at 6.29 euros as of 12:49 p.m. in Milan, giving the bank a market value of 36.5 billion euros.
Earnings before tax in central and eastern Europe declined 16 percent in the first quarter from a year earlier. UniCredit operates in 17 European countries, with an an international network spanning 50 markets, with more than 9,000 branches and more than 148,000 employees. It partly owns Yapi ve Kredi Bankasi in Turkey, controls Poland's second-biggest lender, Bank Pekao, and Croatia's biggest bank, Zagrebacka Banka.
"In Turkey the worst is behind," Ghizzoni said. "We are expecting some recovery already this year.
Before it's here, it's on the Bloomberg Terminal.
LEARN MORE