Spanish Bond Rally Falters Amid Plan for Linkers Sale
Lukanyo Mnyanda and Eshe Nelson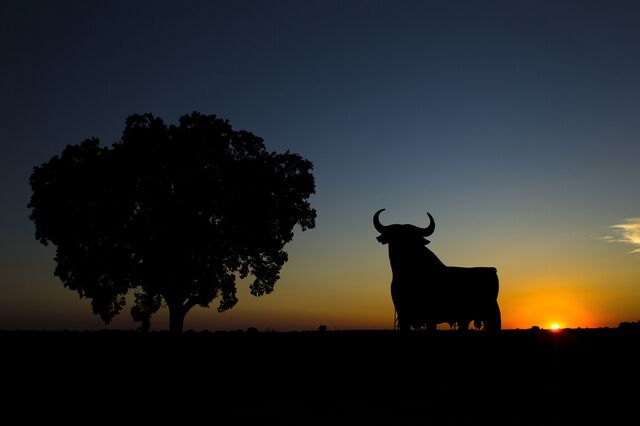 Spanish bonds fell for a second day as the government said it plans to sell inflation-linked securities for the first time, fueling concern increased supply will threaten a rally that pushed yields to record lows.
The 10-year debt being sold through banks may be priced to yield 100 basis points below Spain's current 10-year bond, according to a person familiar with the matter who asked not to be identified because they're not authorized to speak about it. Italian notes declined before the nation sells as much as 7.25 billion euros ($10 billion) of debt tomorrow. German bonds were little changed as investors sought clues from European Central Bank officials on the direction of monetary policy.
"The Spanish curve is under pressure, which could be to do with upcoming auctions," said Luca Cazzulani, a senior fixed-income strategist at UniCredit SpA in Milan. "Supply will place some pressure on Italy and Spain in the short term." A yield curve is a chart showing rates on bonds of different maturities.
Spain's 10-year yield rose two basis points, or 0.02 percentage point, to 2.93 percent at 4:38 p.m. London time after dropping to 2.85 percent on May 9, the lowest since Bloomberg began compiling data of the securities in 1993. The 3.8 percent bond due in April 2024 fell 0.14, or 1.40 euros per 1,000-euro face amount, to 107.405.
Inflation Outlook
Euro-area states are selling linkers as they bet consumer-price increases will stay under control, while investors are concerned central-bank stimulus efforts will fuel inflation. A sale of inflation-linked bonds would also enable Spain to extend the average maturity of its debt and obtain longer-term funding, Treasury head Inigo Fernandez de Mesa said in April.
Thirty-five nations issued more than $1 trillion of inflation-linked securities in the past three years, the most on record, data compiled by Bloomberg show. Sales of linkers worldwide have exceeded $300 billion for three straight years through 2013, the first time that's happened on record, according to the data. Governments have sold $132 billion of the securities this year.
Bond trading shows that investor expect consumer-price growth in Germany and France to stay below the ECB's 2 percent goal over the next decade.
Germany's 10-year break-even rate was at 1.35 percentage points today, down from this year's high of 1.57 percentage points on Jan. 2. The equivalent French rate was 1.44 percentage points, versus this year's high of 1.75 percentage points on Jan. 10. The gauge of expectations of inflation is derived from a difference in yield between regular and index-linked bonds.
ECB 'Comfortable'
Spanish and Italian bonds gained last week as European Central Bank President Mario Draghi said officials would be "comfortable" with taking action at their June meeting to support the economic recovery and push up an inflation rate that is less than 1 percent.
Italian 10-year yields increased two basis point today to 2.97 percent after declining to a record 2.89 percent on May 9. The two-year yield rose three basis points to 0.81 percent.
Italy sold 6.5 billion of one-year bills today. Spain is scheduled to sell six- and 12-month securities tomorrow, when Italy will offer bonds due from 2017 to 2037.
"Today is a very nice opportunity to pick up some peripheral paper, which should do well if the ECB has led the market in the right direction last week," said Peter Chatwell, a fixed-income strategist at Credit Agricole SA's corporate and investment banking unit in London. "There has been a bit of retracement in periphery over the last couple of days."
German Bunds
Benchmark German 10-year yields were little changed at 1.46 percent after declining to 1.44 percent on May 9, the least since May 27. The rate has dropped from a 2014 high of 1.97 percent on Jan. 2.
Prospects of easing from the ECB have fueled gains in the region's bonds, pushing yields to record lows as investors returned to markets they shunned during the sovereign debt crisis. Greek and Portuguese government securities have led the gains, returning 27 percent and 15 percent this year through May 9, Bloomberg World Bond Indexes show.
Policy options for Draghi include cutting the refinancing rate further from a record-low 0.25 percent, charging banks to park cash at the central bank overnight in the form of a negative deposit rate, or pursuing asset purchases in a policy known as quantitative easing.
'Positive Move'
"It looks like Draghi is set to cut and our impression is that he will cut by 10 basis points the refi and deposit rates," said Padhraic Garvey, head of developed market debt strategy at ING Bank NV in Amsterdam. "You could say that it's a positive move but I would fear that it shows the ECB is concerned and that consequently is not very positive."
Volatility on Belgian bonds was the highest in euro-area markets today, followed by those of Austria and Germany, according to measures of 10-year debt, the yield spread between two- and 10-year securities and credit-default swaps.
The Spanish inflation-linked bonds being sold will be tied to the European harmonized consumer-price index excluding tobacco, according to a person familiar with the plan who asked not to be identified because the details aren't public. Barclays Plc, BNP Paribas SA, CaixaBank SA, Deutsche Bank AG, Banco Santander SA and Societe Generale SA will manage the sale, the person said.
(Corrects maximum size of auction in second paragraph of yesterday's story.)
Before it's here, it's on the Bloomberg Terminal.
LEARN MORE