Faster India Inflation Before Election Result Adds Rate Pressure
Kartik Goyal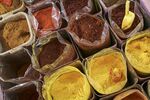 India's retail inflation accelerated by the fastest pace in three months while factory output declined, adding pressure on the central bank to keep rates elevated after national elections finish.
The consumer-price index rose 8.59 percent from a year earlier, compared with 8.31 percent in March, the Central Statistics Office said in New Delhi yesterday. The median of 39 estimates in a Bloomberg survey predicted an 8.5 percent rise. Industrial production shrank 0.5 percent in March, a separate report showed, compared with an estimated 1.5 percent drop.
Retail inflation in India averaged about 10 percent in 2013 and factory output has shrunk in four of the past six months. Elevated price pressures and subdued economic growth have damped the popularity of the ruling Congress party, which trails in exit polls to Narendra Modi's Bharatiya Janata Party before election results due May 16.
"The new government will be inheriting a stagflation-type situation," said Rupa Rege Nitsure, chief economist at Bank of Baroda in Mumbai. "Despite the contraction in output, the central bank will be forced to keep rates high due to inflation. The government has to lower subsidies and raise spending on energy, roads and ports to boost the economy."
The rupee, down about 8.7 percent versus the dollar in the past year, was little changed from May 9 in Mumbai before yesterday's data releases, which came after the close of trading. The yield on the government bond due November 2023 fell to 8.72 percent from 8.74 percent and the S&P BSE Sensex index advanced 2.4 percent.
Monetary Policy
Reserve Bank of India Governor Raghuram Rajan, who has raised interest rates three times since September to 8 percent, reiterated May 9 that lowering inflation is essential to have sustainable growth. He left borrowing costs unchanged last month and said further tightening isn't anticipated if consumer-price gains stay on path to hit 8 percent in January 2015 and 6 percent a year later. The next policy review is scheduled for June 3.
Modi's Bharatiya Janata Party and its allies probably captured 249 to 340 seats, according to six exit polls yesterday, with 272 needed for a majority. The Congress party and its allies, in power for the past decade, probably won 70 to 148 seats.
The BJP has pledged to suppress inflation by creating a price stabilization fund, according to the party's manifesto published April 7. Rajan's job is safe if the party comes to power, Treasurer Piyush Goyal said April 27, adding that fiscal policy compelled the governor to raise borrowing costs.
El Nino
Less-than-normal monsoon rains due to possible El Nino effects, which affect weather worldwide and can roil farm markets, pose risks to inflation, Rajan said last month. Risks also arise from guaranteed prices for farm products, higher energy costs and government spending on subsidies, he said.
The chance of an El Nino emerging is 60 percent, the country's weather forecaster said on April 24, raising the odds of a drought. Less-than-normal precipitation can curb farm output, lower rural incomes and hamper a rebound in the country's economic growth from near the lowest in a decade.
India's wholesale prices probably rose 5.7 percent in April from a year earlier, according a Bloomberg News survey before data due tomorrow. India's economy expanded 4.9 percent in the year ended March 31, the government estimates, near the previous year's 4.5 percent that was the slowest since 2003.
Food and beverage prices rose 9.66 percent in April from a year earlier, the data yesterday showed. Fuel and power gained 5.96 percent and costs of clothing, bedding and footwear climbed 8.83 percent.
Before it's here, it's on the Bloomberg Terminal.
LEARN MORE