Hillshire to Buy Pinnacle Foods, Add Pickles, Hungry-Man Brand to Lineup
By
Hillshire Brands, formerly Sara Lee, announced Monday morning that it will acquire Pinnacle Foods for $4.3 billion. The deal gives Hillshire more packaged and frozen foods, helping it compete with such companies as Hormel Foods. The combined company will have annual net revenue of approximately $6.6 billion. Here are some of their key brands:

In the deal, Hillshire adds to its product mix pickles (Vlasic), frozen vegetables (Birds Eye), frozen meals (Hungry-Man), and desserts (Duncan Hines). "Meats go with vegetables, sandwiches go with pickles, both companies have highly complementary breakfast brands, and both have pie and dessert brands," Sean Connolly, Hillshire's chief executive, said on a conference call today. The new company, which will be almost exclusively focused in the U.S., will still be smaller than Hormel in sales and much smaller than Kraft Foods, which owns Oscar Mayer and Lunchables.
Hillshire was known as Sara Lee until 2012, when it spun off its coffee and tea business, D.E Master Blenders, and renamed itself Hillshire Brands. The new company's revenue in fiscal 2013 was $3.9 billion, almost all of it from the U.S.—and that has increased so far this year. Hillshire shares fell today, however, as investors—who saw the company as more "protein oriented"—seemed unpersuaded about the benefits of the deal.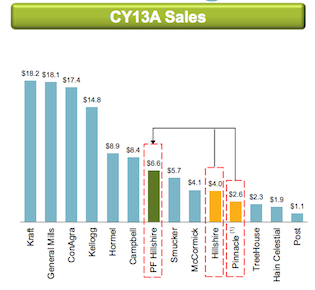 Meanwhile, Hillshire has been trying to revive Sara Lee's deli meats business, and Connolly has previously expressed the need for lunch meat innovation. (He remains confident in corn dogs. "Our State Fair corn dog business is … on-trend, convenient food. We are the market leader," he said last year.)
Pinnacle Foods produces a number of both packaged and frozen-food brands, as well as such breakfast brands as Aunt Jemima and Mrs. Butterworth's. Pinnacle CEO Robert Gamgort said during an earnings call in March that frozen foods still have great potential, despite the decline of frozen entrées. Pinnacle's revenue in 2013 was nearly $2.5 billion, also primarily in the U.S.
Hillshire's new brands appear to fit well with the food preferences researcher NPD identified among the country's young "Generation Z" consumers, who like easy-to-assemble meals, such as sandwiches and warm side dishes (including vegetables), as well as freshly prepared breakfast foods such as eggs, sausage, pancakes, and waffles.
Before it's here, it's on the Bloomberg Terminal.
LEARN MORE