Here's Why In-Game Betting Is Taking Off
by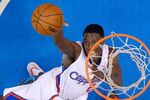 Almost anybody watching the final minutes of last night's NBA playoff game between the Los Angeles Clippers and Oklahoma City Thunder would have felt safe turning off their TV and moving on to other things. With 9:07 left to play in the fourth quarter, the Clippers were down by 16 points.
At that moment, if you had bet at online sites that accept in-game bets (such as Betfair and Stan James) on the Clippers coming back to win, you could have made 57 times your money, according to calculations by Michael Beuoy, who runs the sports data visualization website Inpredictable. After being down 16, the Clippers went on a 35-17 run to end the game, capped by a Darren Collison layup with 32 seconds to go.
Once you've set up an account, online betting sites let you place bets on game outcomes throughout the entirety of the game. With odds changing in time windows so small, these sites effectively update on a real-time basis.
Beuoy's Inpredictable isn't a gambling site, but it provides data to online gamblers to help them place smarter bets. It focuses on live, in-game analytics around win probabilities. Beuoy uses live play-by-play data of every game and runs them through his quantitative model to calculate exactly how the dynamics of the game look at every moment. He also has detailed statistics on each player's contribution to increasing his team's win probability. This type of analysis can be used to see who has been on a hot streak and who might be a factor for future bets.
In a post-game analysis of yesterday's Clippers win, the biggest contributor to the victory was Darren Collison—whose clutch plays late added 39 percent to the probability of his team winning.
The top four plays affecting the win probability happened in succession in the fourth quarter—in a span of just 45 seconds:
• Jamal Crawford hits a three-pointer (+25% Win Probability Added, Clippers up by 2—the top play)
• Russell Westbrook makes a layup (+12% WPA, game tied)
• Darren Collison makes a layup (+15% WPA, Clippers up by 2)
• Russell Westbrook misses a jump shot (-11% WPA, Clippers up by 2)
Below is Beuoy's chart of how the swing in win probability shot back from a near-guaranteed Thunder win to a rapid loss:

Inpredictable is the latest example for why in-game betting has risen in recent years. The growth of mobile apps makes it easy for the casual fan to place bets, and advanced analytics such as Beuoy's gives the public a much smarter set of statistics to make thoughtful decisions. His charts are reminiscent of what stock market traders use to pick up trends and make quick profits.
Before it's here, it's on the Bloomberg Terminal.
LEARN MORE