At TV's Upfronts, a Hint of the Future Amid a Lot of the Same-Old
by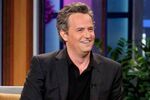 Later this week, for roughly the one-millionth time since the advent of television, a network executive will stand on stage in New York in front of a room full of potential advertisers to hype the latest, greatest thing in entertainment. And then he will proceed to introduce a new sitcom starring Matthew Perry.
In short, the much-anticipated future of television can wait another day.
Perry's perennial return to the small screen—this time as Oscar Madison in CBS's remake of The Odd Couple—will be officially announced during the industry's annual upfront week, which kicks off today in Manhattan. It's a festive time of year when every major TV network throws a self-congratulatory party to introduce its programing lineup for the coming season.
This remains an anxious time for the industry. Netflix and Amazon have not gone away; Aereo looms; distributors are consolidating. And yet people continue to watch hours and hours of television and advertisers continue to spend an enormous amount of money on it: $78 billion in 2013, up from $64 billion four years earlier.
As a result, this year features lots of familiar staples (more NCIS! more CSI! more Perry!) coupled with plenty of upbeat patter about how the industry is already adapting for the future. For now the evolution is subtle, and the player to keep an eye on is Fox. In January, Kevin Reilly, chairman of Fox broadcasting, made a splash by announcing that the network would bypass the traditional pilot season in favor of a talent-friendlier development model similar to that currently being used by Netflix.
At the time, Reilly's announcement set off a wave of stories about the imminent death of TV's traditional pilot season. The threat to TV pilots (like everything else in the TV industry) will be slow to fully manifest: This year, according to the Hollywood Reporter's count, the networks collectively ordered 91 pilots, down from 100 a year earlier. The drop signals that broadcast networks are becoming more willing to experiment, if gently, with their development process—making more straight-to-series orders, for example, and shooting more pilots at different times of the year. Reports Variety:
"The Big Four each spends $80 million-$100 million on programming R&D each year. Those numbers aren't going to decrease any time soon, industry execs say, especially with the reduction in primetime reruns and the move to program originals over the summer. But with the core network economic model–advertising sales–facing its own challenges, it's no surprise that nets would look for more efficient ways to deploy development resources."
To date, Fox has done more than its competitors to tip-toe away from the old model. This week, advertisers will get their first glimpse of the strategy in action. On Monday afternoon in New York, Reilly unveiled Fox's new slate of programming, including a new comedy by Will Forte called The Last Man on Earth, which Fox bought sans pilot.
Call it a bold move in anticipation of the medium's leaner future. Or call it an attempt to deflect attention from Fox's current struggles. In either case, Reilly suggests that changes in the research and development process will only accelerate in the years ahead. "Some of my competitors can resist all they want," Reilly told the Wall Street Journal recently, "but they are going to be forced to change."
No doubt. In the meantime, enjoy Matthew Perry.
Before it's here, it's on the Bloomberg Terminal.
LEARN MORE