A Former Football Coach Goes Into the Advice Business for Troubled College Teams
Paul M. Barrett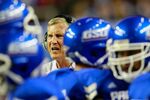 These are troubled times for the $16 billion-a-year college sports business. Current and former athletes are suing for a piece of the action. Antitrust allegations are flying. Football players want to unionize. And then there's the long shadow of head injuries.
Coach Bill Curry sees a business opportunity. The former National Football League star, NCAA coach, and ESPN analyst is teaming with the Porter Novelli public-relations firm to help college sports organizations "avoid reputational harm, monitor for potential issues, and manage through crisis situations." Once college sports were for fun, but no more, at least not the Division 1 "revenue sports" of men's basketball and football.
"We're all about integrity," Curry told me over lunch in New York. I predict he'll have more business than he can handle. The danger will be that big sports schools will try to buy Curry's aura of integrity—and keep right on doing the crass and often sleazy things that sadly have come to characterize much of the campus sports industry.
Curry, 71, speaks softly and has a steady gaze. Over a decade in the NFL, he learned Xs and Os from the likes of Vince Lombardi and Don Shula. He snapped the ball to Bart Starr and Johnny Unitas. A two-time Pro Bowl center, he played for three NFL championship teams. As a coach at the University of Alabama, he led the Tide to a Southeastern Conference title and berths in multiple post-season bowl games. He also served coaching stints at Kentucky, Georgia State, and his alma mater, Georgia Tech. "I love the game," he says with irresistible earnestness. "It has the potential to bring people together and mold young men into better people. It did that for me."
Joining us at lunch was Curry's youthful sidekick, Brian Frederick, a Porter Novelli vice president who, in his spare time, teaches sports management at Georgetown University. Before going into PR, Frederick headed the Sports Fans Coalition, a nonprofit advocacy group. "We want to change the narrative around college sports," Frederick explains. "We want to get the good stories out there about the people who are doing it right."
All well and good. The question is whether the Curry reputation-management consultancy will offer more than after-the-fact spin when coaches cut corners on recruiting, players break the NCAA's often-baffling rules, or, far worse, sports powerhouses get caught up in academic fraud, as has happened lately at the University of North Carolina's prestigious Chapel Hill campus. Curry says he knows the hazards and aims to make a real difference.
"Is this going to be Don Quixote tilting at windmills? Maybe," he says. "But I've been around the game long enough to tell people the truth, not what they want to hear." He says high-profile coaches have to be trained to make realistic promises to their top recruits and to reject high school players who can't survive college academics.
"There's no excuse for that—the fake classes, the kids who can't read and get passed along from year to year," he says. "Football ends at some point for everyone, for most players after college. They need a real education for the rest of their lives."
Cloning Coach Curry and installing one of him at every Division 1 school would be a grand idea. The technology isn't quite there yet. Meantime, Curry says he plans to tell his prospective clients that there are more important things than winning every game. Shouting in those clients' other ear, however, will be fanatical (and deep-pocketed) alumni boosters and Curry's former comrades at ESPN—all of whom tend to focus more on wins and losses, not academic integrity.
Curry speaks with great authority, and he's a heck of a nice guy. I'd pay good money just to have lunch with him again. But one of the most interesting things about his enviable résumé is his own coaching record. He had a number of losing seasons. Overall, he put up mediocre numbers: 92 wins, 118 losses, four ties. He might get hired as a well-paid consultant. But at this point I doubt any of the most competitive college sports programs would put him in charge of their football teams. That's because the man has his priorities straight.
Before it's here, it's on the Bloomberg Terminal.
LEARN MORE