Eastern Ukraine Votes for Independence. Now What?
Katherine Jacobsen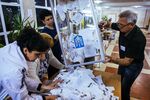 Antigovernment separatists in eastern Ukraine pressed ahead with a referendum on Sunday, even though no one seemed quite sure what effect the election would have.
Although official results from the hastily organized referendum won't be available until Monday afternoon, judging by results seen through the transparent ballot boxes, an overwhelming majority of voters cast their ballots in favor of independence for the Donetsk People's Republic. No one seems to know whether that means much more autonomy inside Ukraine, outright independence as a standalone state, or reunion with Russia.
"Everyone is tired of having barricades in and around the city. People here really want a change," says Nikolai Grachorenko, 38, who was in charge of one of the polling stations in Donetsk, the regional capital.
It seems nearly impossible that the election results will offer any relief to the current unrest in Ukraine's eastern and southern regions. On Sunday, a separatist leader, Denis Pushlin, told journalists that "it is necessary to form state bodies and military authorities as soon as possible" after the referendum results.
The Ukrainian government, along with the U.S. and Europe, don't recognize the referendum, which took place without international observers and without consent from Kiev.
"How can you even call this a legitimate election?" asks Nikolai, who declined to give his last name for security reasons. "I've worked at elections. I know what's supposed to happen and how it's supposed to work," he says. "You can't just throw together a referendum in a couple of weeks." The polling lists of possible voters were two-year-old copies from the last election.
Nikolai, who was out walking with his wife, says the two hadn't bothered to vote or even go inside one of the polling stations. "What's the point if the result is already decided?"
While other residents weren't entirely convinced the election made sense, they still voted, they said, if only to feel like they had some control over what was going on in the region.
"No one is really in power anymore in this country," says Tatiana Vasiliovna, 37. "I just got back from the dacha, and you know what? I had to go through three roadblocks on the way there and then again on my way back. That's not OK."
Before it's here, it's on the Bloomberg Terminal.
LEARN MORE