AstraZeneca Pipeline Is Lottery in Tax-Fed Pfizer Pursuit
Naomi Kresge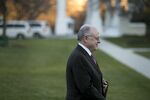 When Pfizer Inc. Chief Executive Officer Ian Read faces U.K. lawmakers to justify his proposed takeover of AstraZeneca Plc, one question will underpin the debate: whether the more than $100 billion offer is really about drugs, or about taxes.
A review of AstraZeneca pipeline assets suggests the latter may be true. AstraZeneca lacks first- and best-in-class experimental drugs in the core cardiovascular, diabetes and cancer sections Pfizer cited as grounds for the offer.
AstraZeneca CEO Pascal Soriot cast the pipeline in a rosy light for investors last week, predicting peak sales potential of about $23 billion. That implies a 36 percent chance of success overall, Soriot said, with odds on individual drugs such as a BACE inhibitor for Alzheimer's as low as 9 percent.
Judging by investor reactions to AstraZeneca's projections and Pfizer's figures, it's a case of a measurable benefit -- tax -- being weighed together with a hypothetical one.
"It doesn't work financially on most people's calculations without the tax benefit," said Mark Clark, a London-based analyst for Deutsche Bank who called AstraZeneca's estimates "blue sky" in a note to investors last week. "Without a doubt, tax is a major motivation."
Lower Taxes
Clark explained why: Assuming the current bid proposal, if Pfizer can swap a U.S.-based tax rate of about 26 percent for a lower U.K. rate and then cut $3 billion in costs from the combined company, earnings per share rise by 14 percent three years after the deal goes through. Missing out on the tax swap leaves earnings rising just 3 percent. Pfizer reported an effective tax rate of about 27 percent last year, compared with about 21 percent for AstraZeneca.
Read cited a lower corporate tax rate as well as the chance to avoid tax on cash parked outside the U.S. when Pfizer made its interest in AstraZeneca public on April 28. On a call with analysts on May 5, he cited "the fit on the portfolio" but added that "it's not a pipeline story per se."
"You know, I've been asked, would you do it if you didn't have this part or you didn't have that part?" the executive said, referring to AstraZeneca's pipeline, the prospect of cost-cutting and the tax savings. "I think the answer is I'm doing it because I have all three parts."
Scientific Needs
AstraZeneca rose 0.2 percent to 4,610 pence in London, giving the company a market value of 58.2 billion pounds ($98.2 billion). The drugmaker rejected an offer from Pfizer on May 2 that valued the company at about 50 pounds a share, or 60.2 billion pounds, and on May 6 said it's aiming for more than $45 billion in annual sales by 2023.
In a series of videos released May 10, Read extolled the scientific benefits of a deal and downplayed the potential tax advantages.
"It really meets the scientific needs," Read said. "It meets needs of efficiency, it meets needs of strengthening our balance sheet and strengthening our fiscal position."
Atop the list of what Pfizer gets in AstraZeneca's pipeline is MEDI4736, the immuno-oncology drug expected to compete with experimental therapies from Bristol-Myers Squibb Co., Merck & Co. and Roche Holding AG, the leaders in the new area of cancer treatment.
Cancer Competition
AstraZeneca said last week it's moving the drug into the final stage of patient trials in lung cancer. But it's too early to tell whether AstraZeneca's version will be the best in an area likely to be dominated by combinations of different drugs, said Sam Fazeli, a London-based analyst for Bloomberg Industries.
Also on the list is AZD9291, an epidermal growth factor inhibitor for lung cancer that faces competition from Clovis Oncology Inc. Olaparib, an ovarian cancer drug, was resurrected for patients with a certain genetic mutation after being initially considered a failure.
Benralizumab, a medicine for asthma, has the potential to be best in its class but must overcome safety concerns -- and is two years behind competing medicines from Roche and GlaxoSmithKline Plc, according to an April market overview from Deutsche Bank analysts.
AstraZeneca does lead competitors in developing new antibiotics, though Soriot has said the field isn't part of the company's core research areas and that he's looking for partners for the assets.
No Standout
"This is an interesting pipeline, but it doesn't stand out as one that is industry-leading in any area," Fazeli said. "It doesn't mean they can't be the best, but we don't know."
In a video released today to explain the benefits of the merger, Pfizer's president of worldwide research and development, Mikael Dolsten, made no specific references to any experimental drugs in AstraZeneca's pipeline.
"AstraZeneca is a company with a strong heritage in great science in U.K. and Sweden and many important medicines that have changed lives for millions of patients," Dolsten said in the video.
Though Pfizer wouldn't approach AstraZeneca if the U.K. drugmaker didn't have any promising experimental drugs, "if you took away the tax issue, I don't know whether they would be interested," Fazeli said.
Which carries more weight is important, though, because it's an indicator for how Pfizer would treat AstraZeneca's U.K. research organization if it's successful, said Birgit Kulhoff, a Zurich-based fund manager for Rahn & Bodmer Co. She doesn't own either company's shares.
Politicians' Questions
"If they buy Astra because of the R&D, they will have to ring-fence the R&D completely," Kulhoff said, adding that that would put a damper on cost cuts and earnings growth. "However, if they buy it because of taxes, well, then I think they will make big cuts."
The prospect is likely to be atop the list of questions Read and other Pfizer executives will face in the hearings scheduled to start tomorrow.
"Many of the questions are already out in the public domain," said Ann McKechin, a lawmaker from the opposition Labour Party who sits on the cross-party Business Committee that is due to question Read and others tomorrow morning. "One is about the tax status. What is Pfizer's motivation behind the deal? Is it about a tax saving, or is it more about the fact that pharmaceutical companies are finding it more difficult to produce the patent drugs required to generate their income streams?"
More Guarantees
The U.K. has signaled it wants more guarantees from Pfizer and held open the possibility of blocking the deal using a "public interest" defense. Prime Minister David Cameron reiterated yesterday that he wants "more" from the company, while his deputy Nick Clegg said he wants "exacting, binding commitments" rather than "aspirations."
In the U.S., Senator Carl Levin said on May 8 he's writing legislation to block U.S. companies from moving their legal addresses overseas to lower their tax bills.
That isn't a concern most investors share.
"Tax structuring is conceived by the capital market as a completely legitimate way to EPS growth," said Ori Hershkovitz, a managing partner at Sphera Funds Management Ltd. in Tel Aviv, which owns Pfizer shares. "And as long as the U.S. government allows for it, a responsible CEO should take advantage of it."
Before it's here, it's on the Bloomberg Terminal.
LEARN MORE