Thai Protesters Target TV Networks in Bid to Topple Government
Anuchit Nguyen and Suttinee Yuvejwattana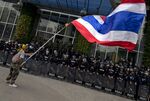 Thai anti-government demonstrators marched to Government House and the offices of the nation's biggest television networks to increase pressure on the caretaker government to step down.
The protesters returned to Bangkok's streets two days after Yingluck Shinawatra was ousted as premier by the Constitutional Court, leaving remaining Cabinet members to hold on until a planned July 20 election. Protest leader Suthep Thaugsuban said his supporters will move to Parliament House later today.
"I ask all respectable people in the country such as the Supreme Court president, Senate speaker and Election Commissioners to hold discussions on a way out for the country," Suthep told supporters at Lumpini Park in central Bangkok. "If you can't find a solution in three days, I and my supporters will use our own ways to end this crisis."
Yingluck, 46, endured more than six months of protests by opponents who accuse her family of crony capitalism, abuse of power and using populist policies to secure the support of rural voters. She was forced to step down after being found guilty of abusing her power, and the National Anti-Corruption Commission a day later ruled she was derelict in her role overseeing a rice-subsidy program, a charge that could lead to a five-year ban from politics.
The rulings may bring anti-government protesters a step closer to their goal of dismantling the political network of Yingluck's brother Thaksin Shinawatra, who was ousted in a 2006 coup and whose allies have won the past five elections. Niwattumrong Boonsongpaisan was named interim prime minister.
Flag Waving
"I hope everything will be fine," Niwattumrong said today when asked whether he was concerned that protesters may target Government House and the country's biggest free-to-air television broadcasters.
Several hundred demonstrators gathered inside the compound of the Channel 3 TV station in central Bangkok, many sitting on picnic-style mats and waving Thai flags. They listened to speeches calling for the removal of the government.
"We ask you to stop broadcasting news of this dictatorial government," Suthep, a former politician with the opposition Democrat Party, told supporters before the march. "We won't interfere with your normal schedule, but when we need to broadcast statements, we want you to cooperate."
The six-month political deadlock has caused consumer confidence to slump to an almost 13-year low and credit ratings companies have warned that prolonged unrest threatens to damage an already fragile economy.
Economic Cost
The stalemate remains the biggest risk to the economy, which expanded 2.9 percent last year, central bank Governor Prasarn Trairatvorakul said yesterday. The University of the Thai Chamber of Commerce said the economy may contract in the first half, after releasing data that showed consumer confidence slipped for a 13th straight month in April.
Thailand's benchmark SET Index of stocks and the baht fell to their lowest levels in more than a month yesterday. The SET was little changed at 1,379.28 as of the midday break today. The baht touched 32.582 per dollar, the weakest level since March 26.
The NACC said yesterday there was enough evidence for the Senate to start impeachment proceedings against Yingluck, without explaining how she could be impeached from an office she no longer holds. Yingluck would be banned from politics for five years if three-fifths of the Senate vote to impeach her.
The government will have spent 880 billion baht ($27 billion) buying rice from farmers from October 2011 to February 2014, according to the Bank for Agriculture and Agricultural Cooperatives, including about 100 billion baht that hasn't yet been paid. The government has recouped about 200 billion baht through stockpile sales, according to Ministry of Commerce data.
Rural Voters
The program, which paid farmers above-market rates for their crop to lift rural incomes, was one of the ruling Pheu Thai Party's main election policies and Yingluck led a committee that oversaw the initiative. Agriculture accounts for 8.3 percent of gross domestic product in Southeast's Asia's largest economy after Indonesia, according to the central bank.
This week's verdict was the third by the Constitutional Court against backers of Thaksin. In 2008, the court found his allies guilty of vote buying, disbanding their party and banning another 30 executives, including then-Prime Minister Somchai Wongsawat, Thaksin's brother-in-law. That ruling came just weeks after the court ordered Thaksin ally Samak Sundaravej to step down as prime minister for hosting a cooking show.
Democrat Boycott
The government has had limited powers since December, when Yingluck dissolved parliament and called elections in a bid to end the protests. A February poll was invalidated by a court on the grounds the vote did not take place across the country on the same day, something that wasn't possible as protesters blocked voting in some areas.
The government and the Election Commission have agreed to the new poll on July 20, though a decree has yet to be submitted for royal approval. The Democrat Party has threatened to boycott that vote, as it did in February. Thaksin-allied parties have won the past five ballots, while the Democrats haven't won a poll in more than two decades.
The EC will meet government officials on May 14 to discuss the planned July vote, and invited army chiefs and security officials to join the talks, Chairman Supachai Somcharoen told reporters today.
Supachai rejected accusations that the EC was trying to delay the election. Yingluck's supporters have said the EC was complicit in the failure of the February poll because it didn't provide any flexibility to candidates who were blocked from registering or enough officials to open polling stations.
Red Shirts
The rulings will further anger Yingluck's mostly rural-based supporters, known as the Red Shirts, who vowed this week to protest her ouster. The group's leader said they will avoid clashes during a rally planned for tomorrow, to avoid giving the army a justification to stage a coup.
"If they obstruct the election, so be it. No election," Red Shirt leader Jatuporn Prompan said yesterday in an interview with the Voice TV network.
"If they topple the government and there is a political vacuum, so be it, no government," he said. "Let's stay like this and see who can hold on longer."
Before it's here, it's on the Bloomberg Terminal.
LEARN MORE