Advertising Giants Made Sweet Pillow Talk Before Calling Off the Wedding
by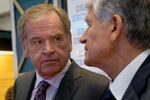 Omnicom and Publicis have called off their $35 billion marriage, a deal pitched as a way to catapult both advertising giants ahead in the race against tech firms such as Google and Facebook.
The antitrust and tax hurdles were high all along, but what's interesting is that executive infighting played a major part in the breakup. The respective CEOs—Omnicom's John Wren and Publicis's Maurice Levy—couldn't agree on where to set up their headquarters, who to hire as CFO, how many children to have.
Given the news of the split, we couldn't help taking a trip down memory lane and revisiting the July conference call when the companies first discussed the deal. It's heartbreaking. Wren and Levy giggled like young lovers as they recounted their courtship and played out their starry-eyed future.
Here's Levy:
"We always had a very good relationship, and we were meeting socially, and one day I said, why don't you stop by and we'll have a cup of coffee or a lunch. … And then at the point in time we were visiting the terrace and he was seeing the view and he says something which is absolutely true, which is 'It's priceless.' And I don't know why I reacted by saying, 'It can be yours.'"
Wren talked about it getting serious:
"Each meeting ended with the desire to have another meeting. So we traded cities, not every weekend, every other, and just tackled questions that might stand in the way of us coming together. … Every difficulty we had in the conversations and the way we were able to resolve them only strengthened the bond."
And Wren was also ready to make it exclusive:
"So we had to work through, role-play in many ways, a number of issues and to make certain that we would commit to each other in a very serious way."
The romance! The naked desire! The real world now seems so cold, so harsh. Relations between the two parties are "severely frayed," according to the Wall Street Journal. Cue the Streisand, or the Edith Piaf, as it were.
What's next for both companies? All the purported strengths of the deal are now, once again, weak spots. According to what the companies professed at their July engagement party, Omnicom is soft on Web development and interactive marketing and Publicis is short on PR savvy and health-care accounts. Neither company appears to be doing as great a job as Google or Facebook at mining online and mobile data for consumer insights. Programmatic ad buying, which almost entirely does an end run around ad-buying shops, isn't losing momentum.
Here's Levy talking about tech synergies in July:
"From a strategic point of view, we are creating something which will help us to be at the forefront of what will be happening tomorrow and the transformation of what's going on currently in our industry with the big data."
We'll never know what might have been.
Before it's here, it's on the Bloomberg Terminal.
LEARN MORE