Man Group Assets Under Management Rise to $55 Billion
Jesse Westbrook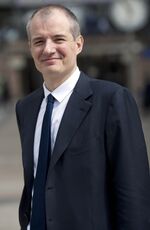 Man Group Plc, the world's largest publicly traded hedge-fund manager, said assets under management rose 1.7 percent in the first quarter to $55 billion, as clients added money to its GLG Partners unit.
The increase was boosted by $6.5 billion in sales of Man Group investment funds, compared with $4.5 billion of redemptions, the London-based firm said in a statement today. Peter Lenardos, an analyst at RBC Capital Markets in London, estimated assets would rise 0.18 percent to $54.2 billion.
Investors added a net $2.1 billion to funds managed by GLG, indicating that they've become less concerned that slow economic growth in Europe will hurt investment returns. At the same time, Chief Executive Officer Emmanuel Roman has cut costs and issued new products to make up for losses posted by AHL Diversified, Man Group's biggest hedge fund with $11.3 billion of assets under management.
"Whilst we are pleased to have recorded a solid quarter of net inflows, we remain cautious in our outlook for asset flows for the rest of the year given recent mixed absolute investment performance," Roman said in the statement.
The shares fell as much as 2.2 percent and were down 0.3 percent at 100.4 pence as of 8:37 a.m., giving the company a market value of about 1.8 billion pounds ($3 billion).
GLG Performance
Man Group's funds lost a net $700 million in the first quarter, as markets were hurt by tension in Ukraine, an investor exit from emerging markets and a selloff of U.S. technology stocks. March, in particular, was a "very difficult" month for the hedge-fund industry, Roman said.
Investment profits made by GLG's credit-focused hedge funds were offset by losses at GLG funds that invest in equities and strategies that make market bets based on global macroeconomic trends, Man Group said. Assets managed by GLG hedge funds increased 11 percent to $18.2 billion in the first quarter.
AHL, which relies on computer algorithms to spot profitable movements in interest rates, bonds, stocks and currencies, fell 0.60 percent this year through April. AHL has posted annual declines since 2010, a performance that has weighed on Man Group's stock price and prompted Lenardos to say the company should make an acquisition to diversify its business.
Roman, 50, joined Man Group in 2010 after it bought GLG for $1.6 billion. He was promoted to CEO in February 2012 when his predecessor stepped down following a 70 percent slump in Man Group's share price over the preceding two years.
Before it's here, it's on the Bloomberg Terminal.
LEARN MORE