Individuals Back Away From U.S. Stock Optimism: Chart of the Day
David Wilson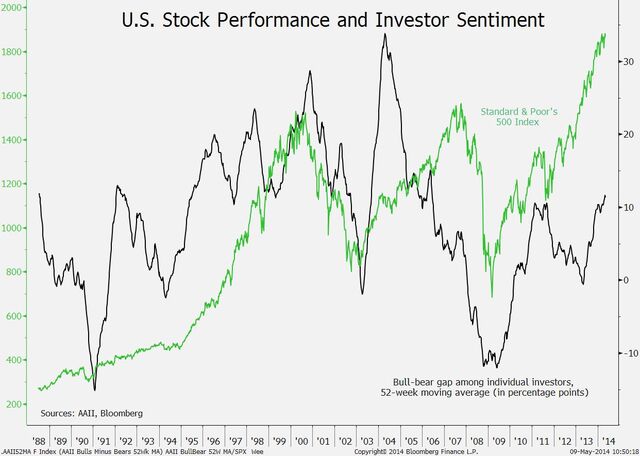 Smaller investors are demonstrating a renewed reluctance to view U.S. stocks favorably as the current bull market extends to a sixth year.
Bulls trailed bears by 0.3 percentage point in the most recent weekly survey by the American Association of Individual Investors after leading by the same margin a week earlier. The figures contrast with this year's widest gap in favor of the optimists: 19.4 points, set in the week ended Feb. 20.
As the CHART OF THE DAY shows, the latest results are also at odds with a more gradual shift in investors' attitude toward stocks. The chart displays the 52-week average of the bull-bear gap, which climbed to the highest level since June 2006 before falling this week, along with the Standard & Poor's 500 Index.
"You see scared individual investors right now," Justin Walters, co-founder of Bespoke Investment Group LLC, said in an interview yesterday. "Just as they were coming back into the market, they started getting burned" as many of last year's best-performing stocks tumbled, he said.
Institutions have a more positive outlook, based on the results of weekly surveys of investment advisers by Investors Intelligence. The latest results showed bulls at 55.8 percent, the highest reading since January and almost twice the number in the AAII survey.
Bespoke wrote about the divergence between the bullish readings yesterday. "The emotional individual investor usually ends up being wrong" when the gap is as wide as it is now, the the Harrison, New York-based research and money-management firm wrote in a report.
Before it's here, it's on the Bloomberg Terminal.
LEARN MORE