Fox Sports 1 Will Carry On Without Regis Philbin
by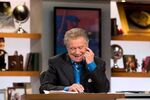 When Fox Sports 1 premièred last summer as the cheeky cable-TV rival to ESPN's dominance, its 5 p.m. show, Crowd Goes Wild, was the emblem of the network's more civil approach to sports talk. The show, hosted by Regis Philbin, deliberately avoided the conventions of loud name-calling and controversy-stoking that helped build the ESPN empire. But Crowd Goes Wild never found an audience; its final episode aired on Thursday. It turns out people prefer "sports shouting."
Crowd Goes Wild averaged 52,000 viewers during its 40 weeks on the air, according to Nielsen data from Brad Adgate of Horizon Media. In its best week last September, the show averaged 80,000 viewers. The competition on ESPN during the five o'clock hour—Around the Horn, followed by Pardon the Interruption—averaged 883,000 viewers.
Fox Sports 1 doesn't need to beat ESPN during that time slot, but it would be good to at least compete. For now, the upstart network will move its Nascar Race Hub recap show into the slot.
The death of Crowd Goes Wild probably signals the end of Fox Sports 1's noble quest to elevate the tone of sports TV, but it's not the end for the network. In April, when ESPN parent Disney shared its latest gaudy profit numbers, the sports network's executives thumbed their noses at the new competitor. "Let's face it. Ain't nobody naming their kids Fox Sports 1," ESPN's head of research, Arthur Bulgrin, told reporters.
Fox Sports 1, for its part, has toned down its ambitions. "Our first goal was to do better with Fox Sports 1 than we were doing with [defunct motor sports channel] Speed," Fox Sports Media Group's Bill Wanger told Sports Business Journal recently.
Live events drive sports ratings, and Fox Sports 1's top programs have been Nascar Sprint Cup races, Ultimate Fighting events, and college football. ESPN thinks it has grabbed so many premier events that its competitors are left in a "bleak desert environment," searching for unclaimed media rights. But Fox is an old player in sports with deep pockets and the patience to keep its new cable network going while it hunts for more programming.
Regis, meanwhile, can rest easy knowing he still holds the record for most hours on U.S. television.
Before it's here, it's on the Bloomberg Terminal.
LEARN MORE