business
Forget Those Big Headphones. Apple Could Turn Beats Into a Streaming Kingpin
By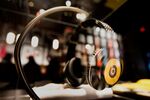 Apple has become the latest suitor for Beats Electronics, the maker of headphones and a recent entrant into the growing field of streaming music services. The talks between the companies, first reported by the Financial Times, value Beats at $3.2 billion and could culminate in a deal announcement as soon as next week. Beats makes the vast majority of its revenue on bulky headphones sold with the imprimatur of rap legend Dr. Dre and music mogul Jimmy Iovine, but it seems likely that Apple's biggest interest would be building on Beats's nascent streaming service to offset the end of the era in which iTunes has dominated music downloads.
First, let's dispense with the caveats for this unconfirmed deal. Neither company has commented on the report, although Beats co-founder Dr. Dre claimed to be the "first billionaire in hip hop" in a video posted on Facebook early Friday morning. It appeared to be footage from a celebratory event at which everyone looked pretty soused. Rappers aren't the most reliable sources of information about their own net worth, but Businessweek found last year that Dr. Dre was one of the few who had traditionally understated his wealth. He was worth $300 million at the time.
Beats has a bit of a track record of unsuccessful partnerships with technology giants. But let's assume the deal goes through and figure out what Apple is after. If the acquisition is about headphones and speakers, then Apple is buying a company with the same design strengths it already has (plus Dr. Dre's street cred). Beats didn't invent the idea of big headphones any more than Apple came up with the idea for the MP3 player; Beats won on good design, savvy marketing, and being cool.
There's another reason to think it very unlikely that Apple would purchase Beats for this design sense. When Beats redesigned its headphones last year, it hired a design firm run by former Apple design chief Richard Brunner. If Apple, one of the world's most iconic brands, has to buy a brand just because it's cool, then Apple is worse off than people think.
Apple knows hardware, but music services have continued to trip it up. ITunes seems increasingly anachronistic as people shift toward streaming services. This isn't a financial problem for Apple. Revenue from mobile apps is more than offsetting the slowdown in music downloads, and iTunes revenue grew 25 percent in 2013. But mobile device makers and wireless carriers increasingly see music as an important part of their brands. Apple's radio service didn't succeed in making a dent in Pandora's dominance. Does anyone even remember Ping, Apple's earlier attempt at a music-centered social network? Exactly.
Beats launched its own streaming service with much fanfare earlier this year. It hasn't exactly lit the world on fire—reports put its total subscription base at about 200,000. But Dr. Dre and Iovine, as co-founders with stature in the industry, would seem to stand a chance against outsiders such as Spotify and Rdio, the incumbents in the young world of subscription streaming services. All three companies charge a flat monthly fee for unlimited access to large catalogs of music, without selling downloads in the iTunes sense of the term. None of these companies has figured out how to make a sustainable business from streaming yet. Beats signed a deal with AT&T to help it drive subscriptions, while Spotify inked a deal with Sprint.
Apple could help tip the scales in favor of Beats in two ways. First, the tech giant controls a major platform through which people download streaming apps. An Apple-owned Beats would likely get far better placement in the iTunes Store than its competitors. What's more, subscriptions purchased through the store would be significantly more valuable to Apple than to other companies, who have to pay Apple a 30 percent commission. Future versions of the iPhone could also have the app pre-installed with a free trial, making a switch to an alternative that much less attractive.
This would make Spotify's job significantly harder. What's more, Beats would also be shielded from having to make a profit on its own. If Apple decides that it's able to sell more phones and tablets by helping make the streaming service more popular, it will likely be happy to do that. On the other hand, if Apple hasn't been able to use its natural advantage to push its own streaming efforts to prominence, it's far from certain it will succeed in doing so for Beats.
Before it's here, it's on the Bloomberg Terminal.
LEARN MORE