Barnes & Noble Sees Growth in College Bookstores (Just Not Selling College Books)
by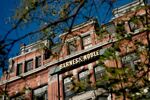 Barnes & Noble has diminished in size and stature, and we all know why. But in one aspect of its business, the prospects remain surprisingly cheery: college bookstores.
The company started life as a university bookstore in New York in 1965 and now operates almost 700 such stores around the country. It hopes to increase that number to 1,000 in the next five years, the head of the college business, Max Roberts, told Reuters. Why not? The college stores accounted for about one-quarter of the company's total revenue last year and have already overtaken the regular stores in number.
So what will Barnes & Noble sell in its college stores? Surely not many more textbooks. Thanks to Amazon and digital textbooks, that's a hopeless cause. "We want to make our stores the center of the community and appeal to other consumers, not just students," Roberts said. By that, he means putting in bigger cafes, more clothes, maybe even Clinique cosmetic counters. Those, he said, are intended to appeal to international students buying gifts to bring back home on vacation.
If you've been to a Barnes & Noble bookstore lately, you know the company is already providing some of this. So, too, are college bookstores that aren't run by Barnes & Noble. Some offer dry cleaning and tanning beds. Others sell tickets to local music or sports events. At Brown, the store sells children's books and items for pets.
That brings up one hitch in Barnes & Noble's plans: About 45 percent of colleges in the U.S. still run their own stores. Roberts noted that the company pays colleges a percentage of sales in the stores, not rent. For Barnes & Noble, every bit helps, especially if—or is that when?—the company splits up and sells itself altogether.
Before it's here, it's on the Bloomberg Terminal.
LEARN MORE