pursuits
A Decade After the ITunes Revolution, Apple Needs Beats' Musical Gurus
By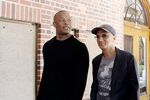 There's something ironic about Apple's plan to purchase Beats Electronics for $3.2 billion.  Jimmy Iovine and Dr. Dre, co-founders of the headphone maker, have an long and intriguing relationship with their suitor.
In 2003, I wrote the inside tale of the iTunes Music Store launch. The story began with an anecdote about Dr. Dre visiting the late Steve Jobs at Apple's Cupertino (Calif.) headquarters for a preview of what would become the world's largest digital music store. "Man, somebody finally got it right," the rap legend said—an endorsement important enough to be conveyed to me on instructions from Jobs himself.
Apple was also eager for me at the time to talk to Iovine, who was then the chairman of Interscope Geffen A&M Records. As my piece made clear, Iovine and Dr. Dre were two of the biggest supporters of Apple's nascent digital music initiative.
At the dawn of iTunes, guys like Iovine and Dre were often described by tech pundits as troglodytes who didn't know how to sell their products online and were forced to turn to Jobs for assistance, and the man behind Apple took pride in being their savior. "This will go down in history as a turning point for the music industry," Jobs told me. "This is landmark stuff. I can't overestimate it."
Now the situation is reversed. Downloads are no longer in fashion—streaming-music services such as Spotify are. "The age of digital downloads is basically over," Aram Sinnreich, a media professor at Rutgers University, told Bloomberg News.
Iovine and Dr. Dre grasped that faster than Apple, launching a steaming-music subscription service earlier this year to go with their successful headphone brand. A decade later, it is the tech giant that's turning to Iovine and Dr. Dre for the answer. So these two music industry executives helped Jobs create the digital music industry, and now they stand to get even richer by selling their digital music company to Apple. They may not have had the answers in 2003, but they knew enough to make the right alliances.
Before it's here, it's on the Bloomberg Terminal.
LEARN MORE