Why UPS Might Not Match FedEx's Higher Package Prices
by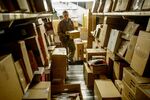 Now that FedEx has announced it will charge extra for larger packages, the cheap delivery that has become standard for online shopping is coming to an end, right? That's what shipping pundits would have us believe. They note that FedEx and UPS always move in lockstep on pricing. "It's almost a foregone conclusion," Rob Martinez, president of shipping strategy consultant Shipware, told the Wall Street Journal. "They have a history of hitting each other like prizefighters back and forth."
But what if that's not the case this time?
UPS always has its eye on FedEx. Then again, it also has to worry about Amazon.com, which is increasingly driving the online-shipping business. The e-commerce giant is no longer simply a user of FedEx and UPS—it has become a competitor, too. Last month the Wall Street Journal reported Amazon had quietly launched a same-day delivery service in San Francisco, New York, and Los Angeles.
And on Thursday, Amazon announced it's expanding Sunday delivery with the U.S. Postal Service in 15 additional cities, including Dallas, Houston, New Orleans, Philadelphia, and Cincinnati. Here's what Mike Roth, the company's vice president for North American operations, had to say about it:
"So far, the most common items delivered on Sunday include baby supplies such as newborn apparel, books and toys—Sunday delivery is clearly crossing errands off the weekend to-do list. We know our Amazon customers love the convenience of everyday delivery, and we're excited to be offering Sunday delivery in more cities across the U.S."
The USPS, by the way, says it has no plans to adopt "dimensional" pricing now favored by FedEx, in which the packages are assessed by size and not just weight.
You can argue that Amazon's same-day and Sunday efforts don't matter to UPS and FedEx. Neither company, after all, seems interested in making these services a large part of their business. But same-day and Sunday deliveries are shifting an increasing number of packages out of the trucks and planes of both companies.
"Amazon is growing at a faster speed than UPS and FedEx, who are responsible for shipping the majority of our packages," Amazon itself noted in a post on its website earlier this year. "At this rate Amazon cannot continue to rely solely on the solutions provided through traditional logistics providers. To do so will limit our growth, increase costs and impede innovation in delivery capabilities."
Surely the shrewd people at UPS's headquarters in Atlanta read those words as closely as they did the news of FedEx's new pricing policy. If so, they must be wondering whether it's worth moving in lockstep with FedEx this time.
Before it's here, it's on the Bloomberg Terminal.
LEARN MORE