Why SkyWest and Small Carriers Suffer Worst From the Pains of Winter
by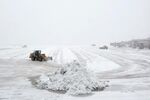 The big airline story in the first quarter was the winter weather that inflicted misery for travelers and carriers alike. Among the airlines, arguably none was hit as badly as SkyWest, the largest U.S. regional carrier.
SkyWest said Thursday that it scrubbed 21,000 flights due to the weather in the first quarter, leading to a $22.9 million loss. Like rivals Republic Airways and Mesa, SkyWest operates regional jets and other small planes for the large airlines, which dictate which flights are delayed or cancelled when poor weather or congestion mars operations. The thinking is that when weather strikes, a cancellation of a regional flight on a 50-seat plane will affect fewer passengers than scrapping a mainline flight on a larger aircraft.
This effect shows up whenever storms wreak havoc. The world's second-largest airline, United, cancelled 35,000 flights in the first quarter, but only 5,000 of those were at its mainline fleet. Delta cancelled 17,000 flights in January and February, the months with the worst weather events. United and Delta are the company's largest customers. American, the biggest carrier, cancelled 34,000 flights in the quarter, including those by its its regional subsidiary, American Eagle, largely because of weather. Republic said last week that it cancelled 12,400 flights in the quarter, 145 percent more than the same period of 2013, cutting into its profits by $7 million.
SkyWest's 21,000 cancelled flights don't tell the full story of the disproportionate impact a flight cancellation has on travelers in towns like Rapid City, S.D., or Peoria, Ill, where there may not be an hourly weekday service to a hub with more options.
SkyWest shares have dropped 21 percent this year, mainly due to financial losses at its ExpressJet unit, which accounts for nearly half of SkyWest's revenues. The carrier is transitioning to larger airplanes from Brazilian manufacturer Embraer that it will fly for United, requiring pilot training and other certification expenses. SkyWest has received the first two of a 40-jet order from Embraer, and plans to fly the first one later this month.
Before it's here, it's on the Bloomberg Terminal.
LEARN MORE