Wendy's Chipotle-Inspired Approach to Burgers Is Paying Off
By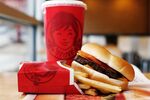 In the battle between the burger chains, Wendy's is gaining ground on its rivals. Same-store sales inched ahead by 0.7 percent in North America to start the year, slightly better than Burger King's 0.1 percent increase and healthier than McDonald's 1.7 percent decline.
While Wendy's average check value and heavy drive-thru traffic still categorize it as a fast-food operation, the chain has been pursuing a strategy inspired more by fast-casual restaurants such as Chipotle Mexican Grill than by its burger-flipping rivals. Wendy's mantra for a while now has been fast-casual quality at quick-service prices. "A brand transformation is well under way at Wendy's," spokesman Bob Bertini wrote in an e-mail.
This has spurred Wendy's to remodel restaurants to have a slightly more upscale feel—there are fireplaces!—along with tearing other pages from Chipotle's highly successful playbook. "There is no real problem with fast food necessarily," Chipotle co-Chief Executive Officer Steve Ells said during a recent conference. "The fast is convenient—it's what people want. But the real problem with fast food, most fast food, today is the food side of it." Wendy's may not be adopting the burrito chain's responsibly raised food angle, but its branding as "a cut above" the other big burger chains in quality seems to strike a similar note.
Wendy's traffic was actually down last quarter because of bad weather. The same-store boost resulted from an increase in customers' average check values driven by higher prices and premium items. Wendy's promoted more premium offerings, including the Asian Cashew Chicken Salad ($5.99), BBQ Ranch Chicken Salad ($6.19), Ciabatta Bacon Cheeseburger ($4.79), and Premium Cod Fillet Sandwich ($3.39). These followed last year's much-hyped release of the Pretzel Bacon Cheeseburger. Sales at remodeled restaurants also ticked up, according to the company's quarterly report.
Of course, retaining value-oriented customers is important for any of the big chains, and McDonald's and Burger King are also paying attention to the premium side of the menu with McWraps and the Big King. But there's little doubt fast food is gradually getting fancier, and Wendy's is pushing ahead with that change more than its burger rivals.
Before it's here, it's on the Bloomberg Terminal.
LEARN MORE