pursuits
Wall Street Hears Shipping's Siren via Novel The Shipping Man
A novel celebrates a money manager-turned-ship owner
By and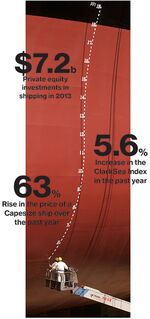 Robert Fairchild is suddenly a hot name on Wall Street. Fairchild, the hero of the 2011 novel The Shipping Man, is a New York hedge fund manager who becomes so captivated by wild swings in freight rates that he buys a dry cargo carrier and sets off on an adventure, leading to run-ins with Somali pirates and Greek tycoons. In recent months, references to the book have turned up in hedge funds' mailings to clients, billionaire Wilbur Ross's speeches, conference calls with securities salesmen, and investment bank research reports. The book appeared for the first time this year in the annual "What Wall Street Is Reading This Spring Break" e-mail sent by Dave Lutz, the head of exchange-traded fund trading and strategy at Stifel Nicolaus.
The book's popularity coincides with Wall Street's renewed interest in sea transport. Betting that shipping rates and ship prices will rebound from historical lows reached in the aftermath of the recession, private equity firms pumped more than $7.2 billion into the business in 2013, up from about $3 billion in 2012, forming partnerships with shipping companies, ordering new vessels, or buying troubled loans secured by existing ships. "Now is a great time to be buying these loans because there's an oversupply," says Marc Lasry, co-founder and chief executive officer of Avenue Capital Group, a distressed-debt company. "We're at or close to the bottom."
Buyers ordered too many ships before the global recession, creating a glut when economies slowed. With the economy recovering, the ClarkSea Index, which tracks the average cost of chartering a ship for a day, rose 5.6 percent in the past year, to $9,634. The 2012 average of $9,586 was the lowest annual figure since at least 1990. A five-year-old supertanker sells for $70.6 million, compared with $53.7 million a year ago, still less than half the $162 million high in 2008, according to the Baltic Exchange in London. The price of a Capesize, the largest type of dry bulk carrier, rose 63 percent in the past year to $50 million, 33 percent of the 2008 peak of $153.8 million.
European banks, which traditionally provided loans to ship owners, are under pressure to sell riskier assets. Ship values have recovered enough for the banks to sell the loans without recording huge losses, according to Stuart McAlpine, a partner at law firm Mayer Brown. With European banks withdrawing from the business, KKR spent about $260 million last year to form lender Maritime Finance to help fill the void. KKR is also financing new ships and taking control of vessels through distressed loans, says Nathaniel Zilkha, KKR's co-head of credit and special situations.
The influx of new money has industry veterans concerned that investors will flood the market with new ships, take their winnings, and go, leaving shippers to cope with another glut. Orders for new ships almost tripled last year to the highest level since 2010, according to data from Clarkson, the world's largest ship broker. "What people fail to understand is they're not giving the market sufficient time to recover," says Giuseppe Rosano, the director of ship broker Alibra Shipping. By the time it does, he adds, "these people will have made their money, and everyone else is trash when the market collapses."
In The Shipping Man, Fairchild muses about the appeal of the business: "Was it the age-old romance of ships and the sea that had been attracting and exciting men throughout history? … Or maybe it was the nobility of the thing: that without ships, half the world would starve and the other half would freeze." The novel helps readers understand an eccentric business, says the author, Matt McCleery, president of industry newsletter publisher Marine Money International in Stamford, Conn. He says a German ship owner recently wrote him that his wife read it and "now she finally understands what I do." Although the book was not a bestseller, it has paid dividends for McCleery. "A billionaire even read it, said he identified so much with Robert Fairchild that he hired me to sell his dry cargo ships," McCleery wrote in an e-mail. "When people ask if there's money in publishing, I think of that deal and smile."
Before it's here, it's on the Bloomberg Terminal.
LEARN MORE