pursuits
The Victoria's Secret Sports Bra Glut
The chain is looking for ways to go beyond its traditional lines
By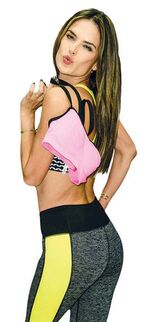 "The days of wearing our old workout shorts and ratty T-shirts are over," Victoria's Secret Chief Executive Officer Sharen Jester Turney declared in November, when the lingerie chain introduced a line of sports bras. Eager to woo gym goers who want to look good while they sweat, Turney and her colleagues said the sporty undergarments would help the brand expand beyond traditional lingerie and sleepwear. The sports bras also could liven up a drab market. "We wanted to solve the uniboob problem, where your sports bra makes you look straight across—no one likes that," Turney said. "This bra is just as much about performance and function as the look."
So far the bras—several styles are sold online and in stores for $29.50 to $62.50—haven't performed as well as expected. Victoria's Secret ordered more inventory last summer and fall than it could sell, said Stuart Burgdoerfer, chief financial officer of L Brands, the company that owns the chain, at an industry event in April. "We have grown that business very nicely, but we bought a lot of sports bras." The retailer hasn't said how many it ordered, only that it has no plans to discount them.
The bras' disappointing sales pace is just the latest example of how challenging it can be for even widely known brands—Victoria's Secret operates 1,060 stores—to expand beyond the core products that brought them fame. The undergarment powerhouse also recently announced plans to discontinue a line of apparel—sweaters, jeans, and dresses available online and through catalogs—that isn't selling well.
In its latest quarterly results, released in February, sales at stores open at least a year rose 3 percent from the year before. Turney pointed to lingerie, sports, and beauty as the brand's three strong performers online and in catalogs. Even so, total catalog and online sales fell 1 percent, driven by a double-digit decline in apparel. And price cuts pinched the profit margin on the clothing.
Victoria's Secret executives have good reason to look to activewear as a way to expand its share of women's closets. While overall U.S. women's apparel sales rose 1 percent in the 12 months ended February 2014, women's activewear sales grew 9 percent, to $14.5 billion, according to market research firm NPD Group. Many retailers and designers want to get in the game. Tory Burch and Trina Turk will introduce activewear lines in the next year. And Turney in February said sports bras and yoga pants have the potential to make up as much as 10 percent to 15 percent of Victoria's Secret store sales. Shape-enhancing workout pants and training shorts are part of that mix.
Women's activewear is popular because of its versatility—it can be worn at the gym or out and about, making the clothes a value purchase. But the demand for sports bras is not as great, says Wendy Liebmann, CEO of WSL Strategic Retail, a New York consulting firm. "It may be people wear sports bras differently than they wear their fashion lingerie," she says. "If you're not exercising every day of the week, then you're wearing one or you might have two."
Before it's here, it's on the Bloomberg Terminal.
LEARN MORE