Patton Boggs Surrenders in Battle With Chevron, Agrees to Pay $15 Million
Chevron pressures a powerful law firm to drop out of a pollution case
Paul M. Barrett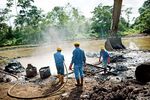 On May 7, Chevron struck another blow in its long campaign to undermine a multibillion-dollar pollution judgment it faces in Ecuador. Under pressure from the oil company, Patton Boggs, the powerful Washington law firm that represented rain forest residents and once vowed to assure the enforcement of the Ecuadorean judgment against the company, withdrew from the case.
In an extraordinary concession, Patton Boggs said it regretted its involvement in the lawsuit. Earlier this year a federal judge in New York ruled that the case, involving contamination in Ecuador's northeastern oil-producing region, had evolved into an extortion scheme aimed at the San Ramon (Calif.) oil company. Patton Boggs also agreed to provide Chevron with supportive testimony and to pay the company $15 million as a tangible symbol of its abasement.
For a law firm of Patton Boggs's heft, the settlement is highly unusual. Law firms occasionally drop a client in the breach. It's almost unheard of, however, for a major law firm to humiliate itself in the fashion Patton Boggs did in the face of Chevron's threat to pursue pending fraud allegations against the firm. Patton Boggs did not admit to any wrongdoing in connection with the settlement.
In forcing Patton Boggs to stand down, Chevron also served notice that law firms might want to think twice before siding with plaintiffs against big corporations in mass injury cases. In a period of fierce competition from megafirms with thousands of attorneys, some midsize corporate law partnerships like Patton Boggs, long a powerhouse in lobbying and trade regulation, have experimented with risky contingency-fee work such as the case against Chevron. Patton Boggs's bitter experience could discourage similar firms from following its lead.
Struggling financially, in part because of its entanglement in the Chevron litigation, Patton Boggs doubtless sees the settlement as a step toward a restructuring that likely will include a merger with a larger, more diversified law firm. It has engaged in negotiations with various potential merger partners—a process that had been complicated by Chevron's claims in federal court in New York that Patton helped cover up fraud in the courts in Ecuador.
The saga stems from a February 2011 Ecuadorean judgment holding Chevron culpable for decades of oil spills and pollution in that country. The liability verdict was upheld by Ecuador's Supreme Court, but the $19 billion in damages was halved to $9.5 billion. Chevron refused to pay, arguing that the architect of the judgment, New York plaintiffs' attorney Steven Donziger, fabricated evidence, coerced Ecuadorean judges, and helped ghostwrite supposedly neutral expert reports and the February 2011 ruling itself. Chevron filed a U.S. civil racketeering suit against Donziger that produced a March 2014 verdict against the plaintiffs' lawyer. Donziger denies any wrongdoing and has appealed.
Patton Boggs signed on as co-counsel with Donziger, agreeing to use its expertise and influence to help enforce the Ecuadorean judgment in courts around the world. That led to Chevron's accusing the law firm of participating in the racketeering conspiracy pinned on Donziger by U.S. District Judge Lewis Kaplan. Patton Boggs, in turn, accused Chevron and its main outside law firm, Gibson, Dunn & Crutcher, of abusive tactics. In the wake of Judge Kaplan's March ruling against Donziger, Patton Boggs decided to throw in the towel.
"The recent opinion of the United States District Court for the Southern District of New York in the Chevron v. Donziger [racketeering] case includes a number of factual findings about matters which would have materially affected our firm's decision to become involved and stay involved as counsel here," Patton Boggs said in a statement in the settlement agreement. "Based on the court's findings, Patton Boggs regrets its involvement in this matter."
"We are pleased that Patton Boggs is ending its association with the fraudulent and extortionate Ecuador litigation scheme," Chevron's vice president and general counsel, Hewitt Pate, said in a press release. Apart from Patton Boggs, a number of other former Donziger allies, including lawyers, scientific experts, and financiers, have disavowed their relationships with the plaintiffs' attorney and have retracted their allegations against Chevron. In a written statement, Donziger blasted Patton Boggs's decision as a "sad and unethical betrayal of their clients."
To Chevron, the single most valuable component of the settlement is probably Patton Boggs's agreement to allow Gibson Dunn to depose Patton Boggs lawyers who could reveal fresh evidence the oil company could use to persuade courts in other countries not to enforce the Ecuadorean judgment. For the plaintiffs, the Patton Boggs surrender constitutes not just a major legal setback; it raises yet more questions about whether Donziger's tainted crusade will ever improve the lives of those he represents in Ecuador.
BOTTOM LINE -
The bottom line: A major law firm's decision to quit a case against Chevron may discourage other lawyers from taking on big companies.
Before it's here, it's on the Bloomberg Terminal.
LEARN MORE