The Separation of Church and Real Estate
Churches want to cash in on New York's property boom
by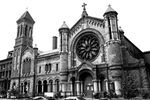 After being ordained in 2012, the Reverend Christopher Ballard was assigned to an historic Episcopal church in Brooklyn and got to work on a key part of his new job: real estate development. Ballard decided to sell the rectory of the Church of St. Luke and St. Matthew as well as an adjacent parking lot—43,000 square feet of buildable residential space behind the landmarked church in the Clinton Hill neighborhood. The site is listed with Halstead Property for $8.6 million, money that would help cover maintenance on a house of worship that dates from 1891. There's no point in waiting because the market is not likely to have another rally like this one, says Ballard in an office on the second floor of the Romanesque Revival church, a half-mile from the new Barclays Center arena, where the Brooklyn Nets basketball team plays. "This is the time to do it," he says.
With prices for land and buildings rising across New York, religious institutions are pursuing real estate sales to generate cash and support their missions. Many of the city's churches and synagogues were built decades ago, and the massive, architecturally distinct structures require costly repairs. "You can't be a successful member of the clergy in New York unless you know how to take advantage of the land market," says Mitchell Moss, a professor of Urban Policy and Planning at New York University. "The only difference between a real estate developer and a member of the clergy is the clothes they wear."

Manhattan development sites sold for an average of $445 a square foot last year, up from $366 in 2012 and a post-recession high, according to Massey Knakal Realty Services. The 88-year-old Wadsworth Avenue Baptist Church in Washington Heights in northern Manhattan is on the market for $7.5 million. The congregation wants to put up a new church building on 30,000 square feet of the site, leaving about 67,500 square feet of potential space for a residential developer. "We're asking for a solution for continued ministry and presence in this neighborhood," says the pastor, the Reverend Joshua Blair, whose church has its original roof and single-pane windows. "We believe the same God that has helped us stay around this long has a plan for the future."
About a dozen developers have expressed interest in the property as Washington Heights becomes a destination for apartment hunters seeking cheaper rents, according to Robert Shapiro, who is handling the listing for Massey Knakal. "This would not have been an option two years ago," he says. "Everything we have right now in Washington Heights is moving very quickly and draws tremendous interest."
On the Upper West Side, the Cathedral Church of St. John the Divine, where a funeral for actor James Gandolfini was held last year, recently signed a deal that would allow a second residential project on part of its 11-acre campus, according to the Reverend James Kowalski, who oversees the Episcopal church as its dean.
Real estate deals have long been part of the business for Trinity Church in Lower Manhattan, thanks to a gift of 215 acres from Queen Anne of England in 1705. Trinity now operates a property arm that manages 6 million square feet of commercial space, most of it near Hudson Square, an area between Houston and Canal streets on the West Side that was rezoned in 2013 to allow more residential development.
Across the East River, churches in Brooklyn are sitting on increasingly valuable land as a flood of young residents pushes up apartment rents amid a dearth of development sites, says Ofer Cohen, president of brokerage TerraCRG.
Clinton Hill, once a crime-ridden corner of Brooklyn, has seen an influx of wealthier residents in the past 15 years, and St. Luke and St. Matthew now finds itself in the right place at the right time as development pushes up Atlantic Avenue, Ballard says. In downtown Brooklyn, which in TerraCRG's research includes Clinton Hill and Park Slope, residential development sites sold for $177 per buildable square foot last year, up from $87 in 2010.
Ballard draws a distinction between physical buildings and the church's duty to the community. If a real estate deal helps him offer more reading programs or services for the homeless, while also ensuring there is money to make necessary repairs, he's all for it. "There's a sense that these buildings themselves are sacred, that the four walls are the ministry," Ballard says. "It's really about realizing this is brick and mortar, and using that to serve our mission."
Before it's here, it's on the Bloomberg Terminal.
LEARN MORE