Musk Reveals What Tesla's Solar Backup Battery May Look Like
by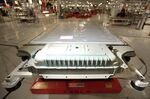 It's going to be "cool."

That's not a word typically used to describe the home machinery hidden in basements beneath floorboards and waste pipes. But it's a word Elon Musk uses -- to describe the battery his company is cooking up to store solar power.
From Tesla Motors Inc.'s first-quarter earnings call this week:
"The sort of thing we have in mind is something that looks a bit like the battery pack in the Model S... something really flat… coming just five inches off the wall, a beautiful cover, integrated bidirectional inverter, and it's just plug and play."
Jargon alert: "integrated bidirectional inverter" basically means electricity can flow where you want it to, and "plug-and-play" means it's easy to set up.
Tesla is pinning its growth to a new "gigafactory" battery plant that would cut battery pack cost by 30 percent. Batteries make up roughly a quarter of the cost of a Model S, and the company faces limited availability of the cells that are used to produce them.
That's why at this stage, Musk said, the company isn't actually trying to build demand for stationary storage like home solar backup, because it would push up the price of his cars. Instead, engineers are biding time and focusing on "what would be a really cool stationary storage pack," Musk said.
The stationary batteries being designed could be used individually or stacked together for commercial projects, Musk said. More details about the design will be discussed at the end of this year or early 2015, he said. The gigafactory is expected to be operational in 2017.

Tesla's battery plans marked another milestone this week as Panasonic signed a letter of intent to work with Tesla on the project. Panasonic is the world's third-largest producer of lithium-ion batteries, which power most modern electronics including laptops and smartphones.
Battery storage is one of the biggest remaining impediments to more widespread adoption of renewable power. Regardless of how the thing looks, if Tesla's battery can speed up the shift to cleaner energy, that would be "cool."
Other things we know about the gigafactory:
groundbreaking on one of at least two factory sites as early as next month

estimated cost of "gigafactory": as much as $5 billion by 2020

creates 6,500 jobs

10 million square-foot facility space

sites being considered: Arizona, Nevada, New Mexico, Texas, California

battery pack capacity target: 50 gigawatt-hours by 2020

battery pack capacity target: 500,000 Teslas annually
Panasonic to manufacture cells onsite

other suppliers may supplement Panasonic's cells for Tesla's packs

More from Tom Randall:

Follow @tsrandall on Twitter for more on what's cool
Before it's here, it's on the Bloomberg Terminal.
LEARN MORE