India's Women's Vote Becomes More Independent
Fewer husbands can tell their wives which candidate to back
by and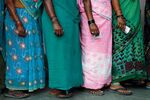 To avoid upsetting her husband, Urmila Devi told him she'll heed his request to vote for India's ruling Congress party when their village of 50 families participates in national elections. Once inside the polling booth, she plans to ignore his suggestion. "I'll vote for a different party," Devi, 26, says outside her one-room house in Galanodhan Purwa village in Uttar Pradesh state, where she cares for her two children. "I'm concerned about women's safety. It should be the government's top priority."
A growing number of women are defying traditional gender roles in India and asserting their voice in elections that began on April 7 and end on May 16. Prompting the change: Higher literacy rates, greater financial independence, and a desire to stem violence against women, which became a highly visible issue after the gang rape and murder of a student in New Delhi in December 2012.
"Over the years, we've asked women if they voted on their own or if they voted for whoever their husbands or fathers asked them to," says Sanjay Kumar, New Delhi-based director of the Centre for the Study of Developing Societies, which conducts opinion polls. "Women were reluctant to tell us earlier, but increasingly they're saying they're voting on their own, no matter what the men say."
About 56 percent of eligible female voters cast their ballots in the previous election in 2009, compared with 58 percent of total registered voters, the narrowest gap going back to 1991, according to the Election Commission of India. Fifty-nine women were elected to the lower house of Parliament that year, about 11 percent of that body, the highest share in India's history. The ratio of women voters increased to 883 per 1,000 male voters in the 2000s, from 715 per 1,000 male voters in the 1960s, according to data compiled by Shamika Ravi and Mudit Kapoor of the Indian School of Business in Hyderabad. "There's a heightened sense of gender inequality in the country now," says Ravi, who has studied 50 years of voting behavior. "That's bringing more women out to vote."
Most polls show Narendra Modi's Bharatiya Janata Party (BJP) winning the biggest bloc of seats while falling short of a majority. The Congress party will probably suffer its worst defeat ever as voters punish it for corruption scandals, slowing economic growth, and rising prices. Both parties have pledged to increase education, job skills, safety, and the enforcement of property and marital rights of women.
Women have had the right to vote and run for office since India's first elections after independence in 1951. Prime Minister Manmohan Singh agreed in 2009 to push for a law that would reserve at least half the seats for women at elected bodies in villages and districts. The measure is pending in Parliament. A second proposed law would reserve for women a third of the seats in the lower house of Parliament.
Despite the growing ranks of Indian women who vote the way they want, in much of the country women still vote for whomever their husbands or fathers choose. In Uttar Pradesh, Chabila Verma says she knows nothing about the elections apart from Congress's symbol: an open, outward-facing palm. The mother of three relies on her husband, a brickmaker, to guide her vote. "He has more knowledge than me, as he listens to what other people discuss about politics," the 25-year-old says as she rests from threshing sheaves of mustard in Khajuri village. "I can't say no to him for such a small thing. My father and mother have taught me to obey him."
India ranks 101st out of 136 countries on the World Economic Forum's 2013 global gender gap index, which studies economic participation, education, health, and political empowerment for women vs. men. That's the lowest among the BRIC economies, which also include Brazil, Russia, and China.
Devi, the housewife who's ignoring her husband's wishes, says she's excited to vote. Her desire to improve security for women is shared by Pinky Singh in New Delhi, who also didn't follow her husband's instructions—to vote for the upstart Aam Aadmi Party. "My mother voted, but she always did whatever my father told her to," says Singh, a 27-year-old housewife and mother of three. She adds that her decision to vote for Modi's BJP upset her husband: "We had a few fights about that."
Before it's here, it's on the Bloomberg Terminal.
LEARN MORE