The Tea Party Gets Into the News Biz
The Daily Signal aims at straight news—with a conservative mission
By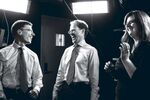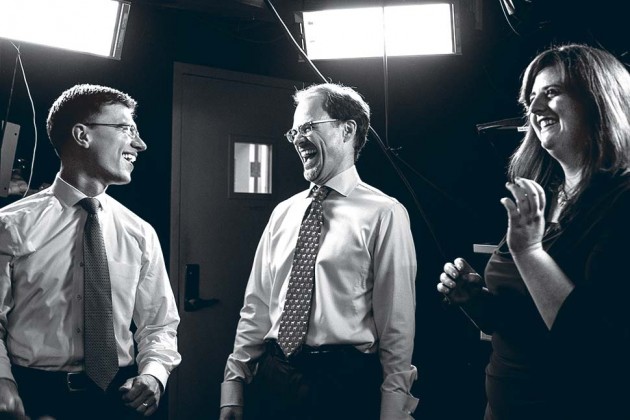 Last year the conservative Heritage Foundation had more influence on the direction of the Republican Party than just about anyone else—and not necessarily for the better. Over the summer, the conservative think tank's president, former South Carolina Senator Jim DeMint, teamed up with Texas Senator Ted Cruz and other lawmakers on a cross-country tour to convince party activists, and eventually GOP leaders, that they could stop Obamacare by refusing to fund it. DeMint forced a showdown because he wanted Republicans to unify around his vision of an unapologetic hardline conservatism—a vision he thinks most Americans will support if given the chance. That led to a government shutdown, a collapse of conservative will, and plenty of angry recriminations from fellow Republicans.
Now Heritage has a new plan to exert its influence and, its leaders hope, win converts to the cause. On June 3 it will begin publishing the Daily Signal, a new digital news site whose primary focus will be straight reporting. "We came to the realization that the mainstream media had really abdicated the responsibility to do the news and do it well," says Geoffrey Lysaught, vice president of strategic communications at the Heritage Foundation, who will also serve as publisher. The site aims to rectify the conservative perception that mainstream news slants to the left. "We plan to do political and policy news," says Lysaught, "not with a conservative bent, but just true, straight-down-the-middle journalism."
How does this help Heritage? The Daily Signal will also publish an opinion section aimed at a younger audience that isn't thumbing through the editorial pages of the Wall Street Journal. Heritage is betting that these readers, attracted to the Daily Signal's news, will find themselves persuaded by the conservative commentary and analysis that will draw on the think tank's scholars and researchers.
The past few years have seen a profusion of conservative media outlets, with titles such as the Daily Caller and Breitbart News joining standbys like National Review and the Weekly Standard. Although their content varies from red meat to sober policy analysis, all are aimed at fellow conservatives. "You often sense there's an element of preaching to the choir," says Katrina Trinko, a well-regarded political reporter lured away from National Review to manage the Signal's news team. "What appealed to me was that our goal is not just to reach that audience. Obviously, we hope conservatives will come. But we hope anyone interested in information and public debate will see us as a trusted news source."
Another way the Daily Signal plans to distinguish itself from its brethren on the right is through the quality of the reading experience. Conservative sites tend to be plagued by annoying pop-under ads and poor design. Heritage hired Atlantic Media Strategies, the digital consultancy behind the elegant financial site Quartz, to design the Daily Signal for phones and tablets. "We thought Heritage could really own the knowledge niche of smart conservatives and designed it with their media habits in mind," says Ory Rinat, AMS's director of strategy and partnerships. The site will be organized around what Rinat calls "passion points," trending topics that will inform the editorial focus as well as reflect the obsessive way in which the target audience of Capitol Hill staffers, policymakers, journalists, and activists ingest political news. Because the Daily Signal is fully underwritten by Heritage, ads won't clutter the experience.
The Daily Signal's clean design, mobile-first approach, and claim of journalistic dispassion suggest obvious similarities to Ezra Klein's new site, Vox, and Nate Silver's refurbished fivethirtyeight.com. "Like Vox and 538, we're purposely branding ourselves not as a blog but a standalone site," says Robert Bluey, who directs Heritage's Center for Media and Public Policy and will be the Signal's editor-in-chief. But Lysaught is leery of the comparison. "What Ezra is doing has got a wild liberal bias to it," he says. "When we talk about the news, we're just laying out the facts. We think that's an important educational mission."
As Lysaught's derision implies, Heritage rejects the idea that the mainstream media impartially purveys straight news. Yet trying to build a respectable alternative is a recognition of the media's power and addresses the main flaw of overtly partisan outlets such as Fox News: They're easily ignored and ridiculed outside conservative circles.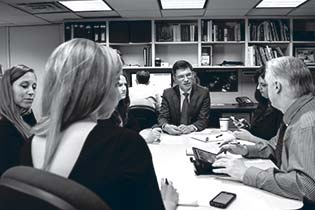 Vox and 538, we're purposely branding ourselves not as a blog but a standalone site."—Robert Bluey" credit="Photograph by Matt Eich for Bloomberg Businessweek" href="" pop_caption="" pop_credit="" data_type="link" />
Heritage wants to build a large audience of its own. But with an editorial staff of about a dozen, it can't reach everyone or supplant the New York Times. Instead it will focus on stories its editors believe the media is neglecting or misconstruing and thereby try to shape mainstream coverage. "A lot of the traditional media, they're lazy," says Lysaught. "When they get up in the morning, they're looking for what's already working. I think they'll look to us. We want to be the place where the news gets its news, drive that news narrative by identifying real stories, doing the homework, and let those guys run with the work we've already done."
Heritage staff offer examples including the Internal Revenue Service audits of political groups; the recent Supreme Court case Sebelius vs. Hobby Lobby Stores, which touched on religious liberty issues; and the emerging debate about Common Core academic standards. Bluey notes that Heritage's current blog, the Foundry, produced a steady stream of negative stories about Debo Adegbile, Obama's nominee to head the U.S. Department of Justice's civil rights division, that eventually led to front-page coverage in the Washington Post. Adegbile's nomination later failed in the Senate. That story is the model for how Heritage, without taking an overtly conservative position, can nonetheless inject its worldview into the mainstream press.
There is, of course, a tension at the heart of any enterprise purporting to offer straight news while also advancing a partisan agenda. Heritage has denounced plans to legalize undocumented immigrants. Will the Daily Signal offer a credible brief for supporters if House Speaker John Boehner summons the nerve to move ahead with immigration reform? Or will its coverage slant toward DeMint's position?
Given the Heritage Foundation's conservative mission, achieving mainstream credibility will be a tall order, especially because Heritage has come to be associated with outspoken purists such as Cruz. Trinko promises a strict divide between news and opinion of the kind that's standard in traditional newspapers. But it will take more than that to win over those who aren't already in their camp. "We recognize that what we're doing is different," says Lysaught. "I anticipate there's going to be skepticism, people saying, 'How can Heritage do this? This'll just be a conservative spin organization.' That's not what this is. We're taking this seriously. I appreciate the skepticism and look forward to proving people wrong."
BOTTOM LINE -
The bottom line: A new Heritage Foundation news site wants to force the mainstream media to cover conservative points of view.
Before it's here, it's on the Bloomberg Terminal.
LEARN MORE