Could Fallout from Ukraine Poison Poland's Economy?
By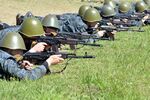 Poles had good reasons to count their blessings as their neighbor Ukraine began sliding into turmoil this year. Poland is not only a stable democracy with its defense assured by NATO—it's also one of the European Union's star economic performers. The central bank in Warsaw forecasts the economy will grow 3.6 percent this year, more than three times the projected EU average of 1.1 percent.
But as the conflict in Ukraine drags on, fears of contagion are rising. The central bank this week held its benchmark interest rate at a record low, citing what bank chief Marek Belka described as the "dynamic and very serious" situation in Ukraine.
A Markit Economics survey of Polish purchasing managers found that business sentiment in April fell to a nine-month low. Polish consumer confidence declined during April, according to European Commission data. "Uncertainly about the situation in Ukraine poses a growing risk," Dariusz Winek, chief economist of Bank BGZ in Warsaw, tells Bloomberg News.
After a decade of booming trade with Russia and Ukraine, Poland saw its exports to Russia fall 7.3 percent during the early part of the year, while exports to Ukraine fell 6.3 percent. The diminished trade is likely to have limited impact, since Russia and Ukraine together account for only 8 percent of Polish exports.
More worrisome is the prospect that Polish businesses and consumers will curb spending as their concern mounts about "the stability of the geopolitical situation in the region," Warsaw-based economists at Crédit Agricole said in a late-April note to clients. "Lower export dynamics, consumption, and investments" could trim Poland's 2014 growth from a forecast 3.5 percent to only 2.9 percent, while 2015 growth could fall from a projected 4 percent to 3.7 percent, they wrote.
Poland runs the risk of Russian retaliation if the EU ratchets up sanctions against Moscow. In an analysis prepared in April, economist Winek said the Russians might retaliate by banning some or all Polish food imports, or raising prices on natural gas. In recent years, Poland has received about 60 percent of its gas supply from Russia. Warsaw has taken steps to reduce its dependence, though, including a new reverse-flow agreement under which it will get more gas from Germany. Even so, Winek said that in his most pessimistic scenario, Polish growth could slow to 2.1 percent during the second half of this year, and to 1.3 percent during the first half of 2015.
Before it's here, it's on the Bloomberg Terminal.
LEARN MORE