The Hybrid Bagel Getting Cronut-Like Attention in New York
How a tiny bagel got a big dose of hype
By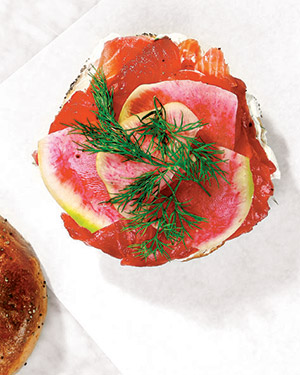 There's no reason for a New Yorker to wait an hour for a bagel. Yet Black Seed, a shop in downtown Manhattan that opened in late April, has locals queuing up to try its smaller, chewier, poppy-seed-covered version. "Bagels definitely aren't niche. But if you come up with something that's slightly different, people immediately want to try it," says co-owner Matt Kliegman, the restaurateur behind the Smile, a celebrity-friendly New York cafe. He opened Black Seed with Noah Bernamoff, who runs New York's popular nouveau-Jewish Mile End delis.
The Black Seed bagel is a New York-Montreal hybrid. It first blew up on food blogs drawn to the owners' bona fides and the promise of a new Frankenpastry sensation like the cronut—croissant plus doughnut. "The cronut fad was gimmicky," says David Sax, author of The Tastemakers: Why We're Crazy for Cupcakes But Fed Up With Fondue. "But this taps into existing demand [for bagels]."
Black Seed makes its dough with New York tap water and honey (a Montreal tradition), then cooks the bagels in a wood-burning oven so the crust gets crispier and the seeds blister. You can order the usual schmears, but the shop encourages gourmet toppings such as tobiko (fish roe) cream cheese and beet-cured salmon. Sandwiches run from $6 to $15; you can buy a plain one for a buck fifty.

By comparison, a Dunkin' Donuts bagel costs 89¢. Black Seed reminds Sax of the Magnolia Bakery cupcake, a gourmet twist on a familiar item that inspired a generation of copycats. "In a year, I bet you'll see Dunkin' Donuts out with an artisanal bagel," he says. It might even cost a dollar.
Before it's here, it's on the Bloomberg Terminal.
LEARN MORE