Here's Why Johnny Manziel Will Get NFL Draft Slot He Does
Mason Levinson and Eben Novy-Williams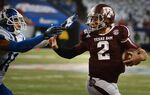 This might be Johnny Football's big night. Or not.
Depending on who you talk to before tonight's National Football League draft, quarterback Johnny Manziel is either the most exciting football player to enter the league in years, or an overhyped headache who will be skipped by wise player-personnel executives. Following are reasons for and against him being a high pick tonight.
Positives
-- He's A Winner: Manziel went 20-6 in two seasons at Texas A&M University, leading the Aggies to two bowl-game wins. As a freshman, he became the only player in college football history to gain 5,000 total yards and 1,000 yards rushing in a season and the first freshman to win the Heisman Trophy.
-- Impressive Workouts: Manziel completed 61 of 63 passes on his March 27 workout for NFL scouts at Texas A&M, according to CBS, and won praise from football hardliners by wearing a helmet for the non-contact drills. "That's about as good a pro day as you'll see out of a quarterback," Mike Holmgren, who won a Super Bowl coaching the Green Bay Packers, told Sports Illustrated.
-- He Can Run, And He's Creative: Manziel rushed for 2,169 yards and 30 touchdowns in college. He thrived after the passing pocket collapsed using what NFL.com called "Houdini-like escapability."
-- Passing: Manziel's hands are 9 7/8 inches across, considered big by NFL standards, and his arm strength has impressed analysts. NFL Network's Kurt Warner, who won a Super Bowl with the Rams in 2000, said after Manziel's pro day: "He showed us he can make all the throws. That deep ball was impeccable. Great touch, good enough velocity."
-- Good Under Pressure: Manziel excelled on third down, running for a first down 30 times last season, 14 more than the next quarterback. In 2013 he also had the highest Total Quarterback Rating on third down of any Division I quarterback.
-- Big Brain: At the NFL Combine in February, Manziel scored a 32 on the Wonderlic, an intelligence test given to all players. According to USA Today, that was the highest of any quarterback in this year's class.
-- Star Power: Texas A&M raised a school-record $740 million from September 2012 through August 2013 as the school entered the Southeastern Conference and Manziel, who earned that "Johnny Football" nickname, had his Heisman Trophy year. Teams such as the Jacksonville Jaguars, which have the third pick in the NFL draft, struggle to fill their stadiums and could use a celebrity leading their team.
Negatives
-- Too Much Star Power: More than 100 media members and representatives from 30 of 32 teams attended his pro day. Guests included former U.S. President George H.W. Bush. He is friends with rapper Drake, and is photographed with the Robertson brothers of "Duck Dynasty." Minnesota Vikings coach Mike Zimmer called his pro day a "sideshow," and said a franchise quarterback needs to show he's focused on football rather than the limelight.
-- Too Short: At 5-foot-11 3/4, as measured at his pro day, Manziel is short for the position. According to NFL Network, no quarterback under 6 feet tall has gone in the first round since 1953. Only two quarterbacks shorter than 6-foot-1 have won a Super Bowl in the past 28 years: Drew Brees and Russell Wilson.
-- Broken Rules: Manziel's transgressions included a 2012 arrest in connection with a fight, a 2013 suspension for violation of National Collegiate Athletic Association rules and his dismissal from the Manning Passing Academy last summer after oversleeping and missing meetings.
-- Too Much Shotgun: Manziel took most of his college snaps a few yards behind the center in the shotgun formation, allowing him to scan the field without focusing on backing up into the pocket. NFL quarterbacks take more snaps under center.
-- Hard Hits: His propensity to run and improvise can be a potential negative. Some similar quarterbacks have struggled to stay healthy in the NFL. Michael Vick, now with the New York Jets, has had multiple injuries, and Robert Griffin III of the Washington Redskins tore two knee ligaments.
-- Waiting Game: Both Holmgren and former quarterback Rich Gannon told Sports Illustrated that Manziel holds onto the ball too long before passing. He'll often throw only after his receivers made their cuts, where many NFL quarterbacks release the ball in anticipation of where the receiver will be. "If you wait like that in the NFL, it creates interceptions," Holmgren said.
-- Sloppy Feet: Manziel was awkward on his feet while throwing in college, relying on his arm strength to complete passes. That won't work in the NFL. "Watch his feet," Gannon said during a film session with Sports Illustrated. "Real sloppy. His body angle is too far back. He's not stepping into and driving his throws. His hopping -- that tells you he doesn't trust his protection -- he's not willing to step up and drive the ball."
Before it's here, it's on the Bloomberg Terminal.
LEARN MORE