Liev Schreiber: Birth of a Pitchman
Can the actor Liev Schreiber pull off the role of a real-life ad exec?
by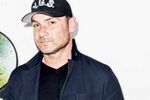 The actor Liev Schreiber has never limited himself to a particular medium. He's worked in film, theater, and television and narrated dozens of documentaries. He wrote and directed the 2005 adaptation of Jonathan Safran Foer's debut novel, Everything Is Illuminated, and has dabbled in voice-over work for Infiniti car commercials. "Coming from a family with no money, I had always had my eyes on the prize," he says. But his latest career move sounds like the whim of a relatively rich man: He started an advertising agency. Schreiber acknowledges it's a strange next step. "In my own industry, I know the parameters, and I know what my function is, and I fulfill it," he says. "I think there's a learning curve [in advertising] for me, and I've always enjoyed a learning curve."
Schreiber, 46, teamed up last October with friend and ad industry veteran Scott Carlson to form Van's General Store, a boutique agency that calls itself a creative collective. (The trendy term basically means a group of people who aren't traditional ad folk.) Carlson, whose wife went to high school with Schreiber, has spent 20 years in advertising, most recently as the creative director of the agency Mother, whose clients included Coca-Cola and Stella Artois in its late-aughts heyday. The subject of advertising kept coming up between the two men, until one day Carlson asked Schreiber to look at a short film he was working on. "When he invited me into the editing room with him, and we started to have conversations about branding and strategy, I found that I really enjoyed it," Schreiber says. The work benefited from the actor's input, Carlson says. "He redid the ending and made it an interesting story. He instantly made it better in a way that I would have never imagined."

Housed in a tenement building on Manhattan's hip Lower East Side, the Van's General Store office is designed to look like a small gallery. When energy drink maker Nergia hired the agency to gain exposure for its "100 percent natural energy shot," Schreiber and Carlson had sleek bicycles and surfboards bearing Nergia's eyeball-like logo installed in the windows. Shoppers in the neighborhood who came in to inquire about buying the gear, which wasn't for sale, were instead offered a sample of the drink.
"It's a walk-in billboard," Carlson says, "and a billboard in Chelsea or on Sunset costs a lot of money," as much as $100,000 a month, compared with less than $10,000 monthly rent for a storefront like Van's. "This might not have the same kind of traffic, but it's a much more dynamic way to get your brand in front of people." Throughout the process, the Van's team offered input on Nergia's packaging, retail displays, and TV and print campaigns. The client also got rights to splash a picture of Schreiber on its website's home page. He's wearing a Nergia T-shirt and riding a Nergia bike, and he gives a breathless endorsement: "Like any product on our roster, Nergia had to go through a trial phase. I honestly haven't stopped using it since. It's become an integral part of my daily routine, and especially my workouts."

Afterward, Van's scored similar campaigns for Vespa—the store is displaying scooter helmets decorated by artists—and Optimum. The duo won't reveal how much they charge or profit from the work; they will say their first project was a pro bono video, for New York's Success Academy Charter Schools. "What I like about the advertising world is that … unlike movies, it doesn't take two or three years and a tremendous amount of heartache and other people's money," Schreiber says, before correcting himself. "Well, this does take other people's money, but it's much quicker and much more painless."
To keep costs down, Van's relies on the freelance economy, assembling teams as needed for each project. There are eight full-time staffers, though the firm has swelled to 50 when working on multiple projects at once. "If you can get the A-list creatives and do it for cheaper and create content at scale, that's where something like this is awesome," says Colin Nagy, the executive director at ad agency Barbarian Group. "A lot of people will be taking your call."

Besides offering a baked-in celebrity spokesman, the agency's business model relies on Schreiber's and Carlson's creative contacts. "I've called Jonathan Safran Foer and said, 'Help me pitch this product.' He's such a wackball that he actually gave me something quite good," Schreiber says. But getting a film made on the power of your connections is different from working with a client—particularly if that company isn't impressed by fame. "Yes, you can get people on the phone, but you also have to understand your client's business," says Rupal Parekh, a marketing consultant and a former editor at Advertising Age. "The [chief marketing officer] at General Motors, for example, has to worry about distribution, marketing, dealers—if you haven't been a student of this industry, it's going to be hard."
Schreiber knows what he doesn't know. At 6 feet 3 inches and in better shape than you, he cuts an imposing figure. The scab on the bridge of his nose doesn't help on the approachability front. (Turns out he walked into a door.) But he undercuts all that with amusing self-deprecation. "Am I the guy with the most information who knows how to deal with scaling a company like this?" he asks. "I don't know that I'm that guy. Do I want to be in the room when that guy makes the decision? Absolutely."
It's easy to be cynical about this type of venture. What used to be a simple spokesperson contract has evolved into a game of celebrities earning lofty-sounding titles for doing little work. Musician Will.i.am became Intel's director of creative innovation in 2011. In the fall of 2013, Lenovo announced that Ashton Kutcher had become the company's newest product engineer. Neither of these relationships has yielded anything concrete. Perhaps most dubiously, BlackBerry appointed Alicia Keys its global creative director in 2013. Her tenure ended when, unaware that Twitter posts contain public data reflecting which device you are posting from, she was found to be using an iPhone. "There was this belief that consumers were no longer responding to straight endorsement deals," Parekh says. "But this trend of giving celebrities titles at a company now also seems to be coming to an end."

The inverse of that relationship—entertainers setting up an ad shop—is less common. Fortunately for Schreiber, his few forebears have been successful. Director Spike Lee, who established Spike DDB with ad giant DDB in 1997, has done campaigns for Chevrolet and Pepsi. Jay Z and former music executive Steve Stoute set up their agency, Translation, in 2008; repeat clients include McDonald's and Anheuser-Busch InBev. "Some celebs are complete non sequiturs when they latch on to a brand. The public sees right through it, and it subsequently becomes an expensive mistake," says Andrew Christou, chief creative officer at Publicis Seattle. "But in the case of an ad agency, where consumers are craving something fresh and new, anyone can have a go at it. Jay Z's shop is a tremendous voice."
Schreiber's confident. "I've turned down a lot of acting gigs, honestly, going, 'You know what? There is another actor for this, someone who will do this better than me.' " But with Van's, he says, "I'm not sure that someone will do this better than me." If it doesn't work out, he's currently filming the second season of Ray Donovan for Showtime. Already, the show's a hit.
Before it's here, it's on the Bloomberg Terminal.
LEARN MORE