They're Back: Freedom Industries Execs Return to Action in West Virginia
Paul M. Barrett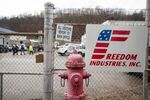 In January, 300,000 residents of the Charleston, W.Va., area lost access to drinking water when 10,000 gallons of a coal-cleaning chemical leaked into the Elk River. The little-known company behind the disaster, Freedom Industries, was swiftly besieged by dozens of lawsuits and then hustled into bankruptcy court for legally sanctioned dismemberment. So much for Freedom Industries. Or so one might have thought.
A week ago, the Charleston Gazette published a scoop that can only be described as mind-blowing: Some of the executives who once managed Freedom Industries have been involved in forming a new West Virginia corporation with an equally anodyne name, Lexycon, "whose characteristics," the local paper reported, "are strikingly similar to Freedom Industries." They wouldn't dare, one might think.
Oh, yes they would. In a May 5 bankruptcy-court filing, lawyers representing the remains of what was once Freedom Industries—the "debtor," in Chapter 11 lingo—confirmed that Lexycon would provide employment to former Freedom executives. Those lawyers also asked the bankruptcy judge overseeing the case for permission to sell what's left of a Freedom-owned facility in Nitro, W.Va., to the former Freedom execs now operating under the Lexycon banner. In other words, Freedom lives!
The Nitro coal industry chemical facility, also known as Poca Blending, "is irrevocably tainted due to the incident," the Freedom Industries motion observed in something of an understatement. "The media attention associated with the debtor and the underlying nature of the assets comprising the Nitro facility" force the conclusion "that on a net-net basis, these assets were actually a liability to the debtor and its bankruptcy estate," the motion added. Demolishing the Nitro plant, the motion estimated, would cost Freedom Industries about $400,000.
So rather than tear it down, the lawyers in charge of shutting Freedom asked the judge to allow a sale of Poca Blending for $575,000. The proposed buyer: Lexycon.
Mark Welch, the "chief restructuring officer" hired to dispose of Freedom Industries, filed a declaration in which he explained that he was introduced to Lexycon by Gary Southern, Freedom's former president. Lexycon's "principal," a man named David Carson, is "a personal friend of Gary Southern," Welch told the court. Moreover, he added, the president of Lexycon, Kevin Skiles, is the former vice president for research and technology and Dennis Farrell, a former Freedom Industries owner and ex-executive, will serve as a consultant to Lexycon.
"I strongly advocate the proposed transaction as being in the best interests of Freedom, its bankruptcy estate, and creditors," Welch concluded. He did not say whether he'd sought the opinion of the many Charleston residents who might be skeptical of having the Freedom Industries boys continuing to do business in their midst. The judge's ruling is expected shortly.
Before it's here, it's on the Bloomberg Terminal.
LEARN MORE