Sotheby's and the $16 Million, Anti-Dan Loeb Proxy Battle
By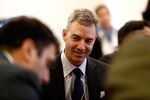 Activist investor Daniel Loeb has finally muscled his way onto the Sotheby's board along with two allies. The company saluted him this morning, publicly and testily.
Its earnings report boiled down to this:
Welcome Mr. Loeb. We actually are doing a brisk business, but we just spent $5.7 million trying to fend you off.
Sotheby's made sure to get that figure relatively high in its script and assured investors that the associated 24 percent jump in expenses was "not a trend line to expect."
Specifically, the spending was for "third-party advisory, legal and other professional service fees," also known as Loeb-fighting lawyers. The company also noted that it will shell out a further $10 million this quarter to reimburse Third Point, Loeb's firm, for its battle costs. George Sutton, an analyst at Craig-Hallum Capital in Minneapolis, asked Sotheby's on the conference call to repeat the expenses related to the proxy war. "I hoped I heard it wrong, but I didn't," he said.
The start of the year generally isn't a rich period for the august auction house. But Sotheby's managed to shrink its loss from $22.3 million to $6.1 million. Sales surged 54 percent, to $123.1 million, in part because it auctioned a lot of Impressionist artwork. Sotheby's also sold something called a "chicken cup" for $36 million (which looks like this, not that). Minus the proxy fight, the company might have broken even.
"Sotheby's is thriving today and well-positioned to deliver great results for our clients and value to our shareholders, as these results clearly demonstrate," Chief Executive Officer William Ruprecht said.
Now things will get interesting. Loeb has shamed the company for being slow to adopt technology and stubborn about private sales. In the next board meeting, he'll certainly have some thoughts on just how great the business is going—minus its legal fees.
Before it's here, it's on the Bloomberg Terminal.
LEARN MORE