Restrictions on Livestock Antibiotics Don't Worry the Drugmakers
By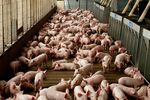 The Food and Drug Administration announced plans to stop antibiotics from being fed to farm animals to make them grow faster late last year. The goal was to limit the rise of resistant bacteria that have developed immunity to the cures we have.
Since then, there's been considerable debate about whether the rules, which ask companies to adjust drug label instructions to make sure animals only get antibiotics for medical reasons, would make any difference. One sign that the widespread use of antibiotics to raise livestock isn't going away: The companies selling them don't seem too worried.
That was evident when Zoetis, which bills itself as the world's largest animal health company, reported its first-quarter earnings on Tuesday. The company took in $1.2 billion on sales of antibiotics last year, according to its 2013 annual report. That's more than a quarter of its $4.6 billion in revenue for the year, and 41 percent of its livestock business. Zoetis, which was spun out of Pfizer last year, also makes medicine for pets.
A decline in antibiotic use, particularly in pig farming, contributed to a 6 percent drop in Zoetis's livestock drug sales in Europe, Africa, and the Middle East since the first quarter of last year. "The pressure to reduce the use of antibiotics in regions like Europe, and more specifically in Western Europe, continues affecting industry revenues," Zoetis Chief Executive Juan Ramón Alaix told analysts on Tuesday.
But there aren't significant restrictions elsewhere. In the U.S., Alaix said, Zoetis agreed to change its labels as the FDA requested. "We think that despite this pressure that definitely will continue in Europe—and we have seen new regulations in countries like Belgium or France—we expect the antibiotic [market to] continue growing at the global basis, although at lower pace than the global growth of animal health," he said.
Last week the World Health Organization warned that microbes resistant to existing therapies had reached every region of the world and represented a "serious, worldwide threat to public health." In the U.S., 80 percent of antibiotics by weight are used in agriculture. Overuse or misuse in medical settings also helps breed drug-resistant bacteria.
Tougher regulations of antibiotics are the very first item on Zoetis's list of risk factors in its annual report: "Restrictions and bans on the use of antibacterials in food-producing animals may become more prevalent." The disclosure mentions that the company will comply with the FDA's suggestion to change its labeling over three years and warns that greater concerns about antibiotic resistance could "result in additional restrictions or bans." Eli Lilly, which has a $2.2 billion animal health business, also warns of "emerging restrictions and bans" in its disclosures to investors. But the topic didn't come up when the company held a call with analysts two weeks ago announcing its acquisition of Novartis's animal health business.
If the FDA's rule meant a significant decrease in the use of antibiotics in agriculture was on the way, executives from companies such as Lilly and Zoetis would likely sound more alarmed.
Before it's here, it's on the Bloomberg Terminal.
LEARN MORE