Productivity Just Went Down. Blame Weather—and 'Capital'
by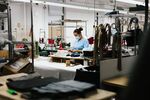 American workers produced less per hour on the job in the first quarter of 2014, continuing a trend of subpar productivity growth. One big reason for the long-term trend: Workers don't have the machines and software—i.e., capital—that they need to be fully productive.
"Persistently depressed levels of business investment … have led to an unprecedented period of stagnation in the level of capital per worker," Morgan Stanley economist Ted Wieseman said in a note to clients today. "We are likely in an unprecedented fifth year of no growth in capital per worker," Wieseman wrote. He added: "Hollowing out of the capital stock from years of persistent underinvestment is damaging potential GDP growth."
Wintry weather that suppressed economic output also contributed to the poor first-quarter numbers. Despite the bad weather, hours worked increased at a 2 percent annual pace. (Labor productivity is output divided by hours worked.) Productivity fell from the fourth quarter of 2013 at an annual pace of 1.7 percent. Because productivity fell while wages were rising, the labor cost for each unit of output went up. Unit labor costs grew at an annual pace of 4.2 percent.
In the long run, productivity is the main determinant of living standards. Over the past year, productivity increased 1.4 percent. Unit labor costs rose 0.9 percent compared with the first quarter of 2013. Over the past decade, productivity growth has averaged 1.6 percent a year, down from 2.7 percent in the previous 10-year period.
Before it's here, it's on the Bloomberg Terminal.
LEARN MORE