No Longer the Stepchild of U.S. Education, Community Colleges Fill a Vital Need for Skilled Workers
Harold L. Sirkin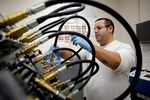 Efforts to align America's education system more closely with the needs of the 21st century workplace are gaining momentum.
At the university level, for example, colleges and businesses nationwide are joining forces to create new curricula, such as the University of Maryland's cybersecurity program, which Northrup Grumman is helping to finance and develop. Although some education traditionalists fear the relationship between business and academia is becoming too cozy, the trend will continue, as higher education adjusts to new fiscal and workplace realities.
A more important trend is the continued alignment of America's 1,132 community colleges with the needs of local employers.
Chattanooga State Community College in Tennessee, for example, where Volkswagen has a major plant, offers an associate's degree in automotive technology. Cape Fear Community College in Wilmington, N.C., has developed programs in both film and video production and marine and diesel mechanics in recognition of the city's close ties to the film business and the maritime and boat building industries. And Chemekata Community College in Salem, Ore., in the heart of wine country, offers a wine studies program. Sound strategic thinking.
With some 8 million students enrolled nationwide, community colleges are no longer the poor stepchild of U.S. education. They're a vital linchpin connecting the world of learning and the world of doing.
Some state legislators are starting to recognize this. While state and local appropriations for community colleges have been declining steadily, legislators in Oregon and Tennessee are trying to reverse this trend, proposing tuition-free access to community colleges.
Proponents of the plan argue that the additional upfront costs to taxpayers would be offset over time by: increasing the states' skilled workforces; reducing the burden on government assistance, as people switch from safety-net programs to self-sufficiency; and generating additional consumer spending and tax revenue as more workers spend less of their paychecks on student debt—a major problem for many graduates of four-year colleges—and more on appliances, cars, clothing, electronics, food, housing, recreation, and other needs.
The main sticking point, of course, is cost. Other issues include the capacity of existing facilities to accommodate increased enrollments, whether free tuition should be offered only to recent high school graduates, and whether it should be offered to all, regardless of need, or only to low-income students.
One way or another, state lawmakers need to start seeing community colleges as a great investment, not simply a cost.
Think of it as a form of matchmaking—preparing Oregon students, for example, for careers in advanced manufacturing, clean technology, the forestry and wood products industries, tourism, fishing, and winemaking. Or training Tennessee students for careers that match the Volunteer State's emerging industrial profile, particularly its growing prominence as an automobile manufacturing center.
Community colleges are typically not party schools; they're schools for the working woman and the working man. We need to treat them as valuable assets.
Note:  I'm indebted to Dean Greg Harris and Joel Keebler, director of Agricultural Sciences at Chemeketa Community College, Salem, Ore., for pointing out an error in this column, which  based on information from a state of Oregon publication,  incorrectly identified another school as offering a wine making degree. In fact, I should have cited Chemekata Community College, which has an entire Wine Studies Program with three degree tracts: in Wine Business, Vineyard Management and Winemaking.
Before it's here, it's on the Bloomberg Terminal.
LEARN MORE