HDFC Bank Valuation at 2009 Low as Growth Slows: Corporate India
Anto Antony and Anoop Agrawal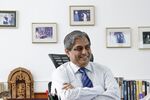 HDFC Bank Ltd.'s stock valuation is approaching a five-year low after India's most valuable lender posted profit growth below 30 percent for the first time since 1998. Its capital buffers and bad-loan ratio make the stock a buy, F&C Asset Management Plc says.
Forty nine of 66 analysts who track the stock recommend investors purchase the stock, giving Mumbai-based HDFC Bank a consensus rating of 4.18 out of a possible 5, data compiled by Bloomberg show. That's the most bullish since March 2009 even amid concern an economy expanding close to the slowest pace in a decade will crimp earnings.
"We still like HDFC Bank, amid slowing profits, as they have been able to capture market share from the bigger players," said Sam Mahtani, a London-based director of emerging markets at F&C Asset Management Plc, which oversees about $150 billion including HDFC Bank shares. "This will continue for some time as the public-sector banks grapple with the asset-quality concerns and capital constraints."
State-controlled lenders, which account for more than 70 percent of India's outstanding loans, have historically been under-capitalized relative to privately owned peers as a 51 percent government ownership requirement curbs the scope those banks' have to raise capital by selling shares. This in turn curbs their capability to boost lending.
HDFC Bank, led by Managing Director Aditya Puri, had a capital adequacy ratio of 16.1 percent as of March 31 and a gross bad-loan ratio of 1 percent, exchange filings showed. India's banks had an average capital buffer of 12.7 percent and a soured debt ratio of 4.2 percent as of Sept. 30, latest Reserve Bank of India data show.
Share Performance
While HDFC Bank's market value of 1.72 trillion rupees ($28.6 billion) made it the nation's largest lender by that measure, it trails ICICI Bank Ltd. and four government companies including State Bank of India in terms of assets.
Shares of HDFC Bank gained 0.4 percent to 718.30 rupees at the close in Mumbai today. They have dropped 4.3 percent from their March 24 record as the lender reported April 22 that net income rose 26 percent in the 12 months to March 31, down from 30 percent a year earlier. The stock trades for 16.9 times estimated profit, close to the lowest level since April 2009, data compiled by Bloomberg show.
Loans at HDFC Bank, after adjusting for cash raised through foreign-currency swaps,grew by 21.8 percent in the year to March, the lowest in at least 10 years, exchange filings show. Profit growth is unlikely to beat 30 percent again until India's economic expansion exceeds 7.5 percent, Deputy Managing Director Paresh Sukthankar said April 22. The economy grew 4.9 percent in the latest fiscal year, the government estimates.
Election Results
"HDFC Bank won't be able to clock the same strong performance until the economy goes back to the high growth path, and we believe the recovery will take one to two years," said Pauli Laursen, who manages about $700 million of emerging-market shares including Indian banks at Sydinvest Asset Management in Aabenraa, Denmark.
Laursen sold HDFC Bank shares this year to buy ICICI Bank, the country's No. 3 lender by market value, and State Bank, the largest by assets.
HDFC Bank shares climbed more than 850 percent in the past 10 years, more than double the 366 percent increase in the 12-member S&P BSE Bankex Index. The stock's price-earnings ratio is at a 50 percent premium to the Bankex's 11.4 times.
Politics may help determine the nation's economic expansion. Most opinion polls have shown the main opposition Bharatiya Janata Party, led by prime ministerial candidate Narendra Modi, winning the largest number of seats in ongoing parliamentary elections, while falling short of the 272 needed for a majority when results are announced May 16.
Policy Overhaul
The larger the bloc of seats the BJP secures, and thus the more stable its coalition, the more willing it may be to overhaul policies and regulations to spur growth, analysts from Nomura Holdings Inc. to Australia & New Zealand Banking Group Ltd. have said.
HDFC, started in 1994, had 3,403 branches and assets of 5 trillion rupees, latest exchange filings show. State Bank had 15,297 outlets and 17.4 trillion rupees of assets.
"Most investors conclude HDFC Bank is head and shoulders above any bank in India, and that's why they end up paying a premium for it," said Nick Paulson-Ellis, co-head of global emerging markets at Espirito Santo Investment Bank in London. "You can't have 30 percent growth for perpetuity, and if it's made a decision to grow more slowly in this environment, I think that makes sense because you need to see clearer signs of growth recovering."
Before it's here, it's on the Bloomberg Terminal.
LEARN MORE