Fund Managers' Complex Bills Targeted in Regulatory Review
Lindsay Fortado and Sarah Jones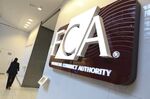 The U.K. markets regulator is targeting the way asset managers bill clients with a second review of the industry after the watchdog said funds shouldn't pass all their research costs on to customers.
The Financial Conduct Authority issued rules today barring investment managers from using dealing commissions to bill for anything beyond the cost of executing orders, while allowing costs for "substantive research" to be passed on, after finding clients were often being overcharged. As soon as next week the FCA may recommend greater fee transparency following a yearlong review into the industry. Fees have become "complex" and customers may be at a disadvantage if they can't easily compare providers' charges, Will Amos, the regulator's director of wholesale banking and investment management, said by e-mail.
"Asset management is by far the most systemically important sector that is regulated exclusively by the FCA," said Nathan Willmott, a regulatory lawyer at Berwin Leighton Paisner LLP in London. "As a result, it has found itself under the regulator's microscope more than ever before."
The new review adds to the pressure the FCA put on the U.K.'s 5.2 trillion-pound ($8.8 trillion) asset-management industry in the regulator's first year in operation. British investors pay 58 percent more in fees to fund managers than those in the U.S., and charges have climbed 28 percent since the beginning of 2013, according to SCM Private, a fund-management firm in London.
"Fee transparency is absolutely vital," said Gina Miller, a founding partner at SCM. "The industry needs to make a fundamental shift to publishing all fees in one understandable number that will reignite investor confidence in the industry."
Investor Interests
In the coming year, the FCA will also check whether firms are doing enough to prevent insider trading and if they are "taking proper account of investor interests" as part of the four separate reviews.
Today's rule change allows fund managers to bill clients for research through the trading commission if it is original, has critical analysis and adds value to trading decisions. The FCA estimates that trading commissions total about 3 billion pounds a year in the U.K., half of which has been allocated to research.
Amos said the FCA is reviewing the way bills are structured because "consumers may be disadvantaged if they're not able to easily understand and compare charges across providers."
Corporate Access
The U.K. reviews add to demands from governments and regulators across Europe for greater transparency and accountability from the industry. Bank of New York Mellon Corp. and Ernst & Young estimated in a September report that multiple regulatory measures in the next three years could cost European asset managers as much as $500 million a year.
"There are far more touch points between asset managers and the regulator than in the past," Michael Dobson, chief executive officer of Schroders Plc, Britain's biggest publicly traded money manager, said in a telephone interview last week. "Regulation does bring with it much higher costs, but our view is to work with this because it's a fact of life."
The rules will also ban funds in most cases from passing on the cost of corporate access, where fund managers pay investment banks or brokers for meetings with senior managers of companies they invest in. Fund managers spent as much as 500 million pounds in 2012 for corporate access, FCA CEO Martin Wheatley said in a speech to the industry in October.
"Of most concern is that firms are pushing the definition of 'research' by using client commissions to cover non-eligible costs and services," Wheatley said then.
Before it's here, it's on the Bloomberg Terminal.
LEARN MORE