Did the U.S. Economy Just Turn Negative?
by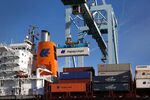 Last week we learned that the U.S. economy grew a meager 0.1 percent during the first three months of the year. The news was met by a collective groan and some head-scratching over how a bout of bad weather could put the world's largest economy on its back. As sad as it sounds, that estimate is actually starting to look overly optimistic.
Subsequent data have a number of economists wondering if the economy actually shrank during the first quarter. Here's how perma-bull Joseph LaVorgna, chief U.S. economist at Deutsche Bank, explained it in a note to clients: "Weaker data on construction spending, inventories and net exports imply that Q1 [gross domestic product] will now show a contraction." LaVorgna now suspects the economy notched a -0.8 percent growth rate during the first three months of the year. Paul Ashworth, chief U.S. economist at Capital Economics, thinks economic growth fell 0.4 percent in the first quarter.
A lot of the pessimism is emanating from Tuesday's trade data, which showed that the U.S. trade deficit narrowed in March, to $40.9 billion, a 3.6 percent drop from February and the first decrease in the trade deficit since November. That may sound good, but the government was expecting the deficit to tighten a lot more. While exports jumped more than 2 percent, imports also increased more than expected, fueled by a strange 10 percent rise in food and beverage imports. A rise in imports may seem like good news—evidence of more consumption and whatnot—but technically it's a drag on GDP. Which is kind of a drag in itself.
It gets worse. The trade data show that the U.S. trade position is weakening across most industries. Buried in last week's GDP data were some equally bad trade numbers. U.S. trade during the first quarter was actually a huge drag on the economy, subtracting 0.83 percentage points of growth. According to Alan Tonelson, a research fellow at the U.S. Business and Industry Council, that's the biggest bite that trade has taken out of growth since GDP data began getting tracked in 1947. Yikes.
Before it's here, it's on the Bloomberg Terminal.
LEARN MORE