Cattle Feed, Bioplastics, and Other Experiments With Starbucks Coffee
by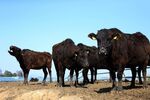 A small number of cows in Japan are now noshing on feed made with used Starbucks coffee grounds. The unexpected maker of the product: Menicon, a contact lens company in Nagoya.
For nearly 20 years, Starbucks has been giving away used coffee grounds to customers for free to use in compost for their gardens. But finding uses for them in industry would be more effective for a company that buys 400 million pounds of coffee globally each year.
"We often work with stakeholders, including researchers, municipalities, and our own supply chain, to find viable solutions that work for a business our size," said Starbucks spokeswoman Alisha Damodaran in an e-mail. While Starbucks can send grounds from its stores to municipal composting in some markets, such as Seattle, not every city offers this service. The company says it is not selling the used grounds at the moment, donating them instead to researchers.
Menicon developed the coffee-based cattle feed with Azabu University's veterinary medicine department, based on a fermentation technology it came up with while experimenting with rice straw (part of materials research for new contact lenses), according to a release. In 2013, Menicon, Starbucks, and waste treatment company Sanyu Plant Service jointly applied for a patent on the feed. The grounds are also used in compost to fertilize the lands the cows graze on. Here's an illustration of how the cycle works.

Other researchers are working on other uses for coffee grounds. City University of Hong Kong has experimented with using Starbucks' grounds and baked goods in bioplastics and laundry detergent by blending them with a mixture of fungi "that help break down the carbohydrates into simple sugars. The blend is then fermented in a vat where bacteria transform the sugars into succinic acid, a key material that's used to produce everything from laundry detergent [and] plastic to medicine," the New York Daily News reported.
At the University of Cincinnati, researchers are exploring three ways to use coffee in biodiesel by extracting oil from the grounds, then using the grounds to purify the crude biodiesel extracted from the coffee oils, and finely using the coffee grounds as fuel for burners, according to the News Record, a university publication.
Before it's here, it's on the Bloomberg Terminal.
LEARN MORE