The World Cup Can't Come Soon Enough for Adidas
By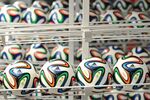 A polar vortex, it turns out, doesn't make for a nice day on the links. The harsh U.S. winter crushed the Adidas TaylorMade golf business and sent earnings at the sportswear giant into some rough territory.
Almost 40 percent of TaylorMade sales disappeared in January, February, and March, dragging the company's total revenue down by 5 percent. Adidas profit dropped 34 percent, to €206 million, as a relatively strong euro further battered weak sales.
Golf typically makes up about 10 percent of Adidas's business, and the recent quarter's result underscores the risk of a mass-market giant dabbling in a high-end slice of the sports market. Sure, the customer demographic is attractive and diversification is smart, but golf is hugely sensitive to both weather and the economy. (Ski gear is another category that presents the same challenges).
Last year, the total rounds of golf played in the U.S. dropped 5 percent, according to the National Golf Foundation. This winter, greens were even emptier. Golf rounds dropped 3.6 percent in January, 4.6 percent in February, and a whopping 23 percent in March.
Not surprisingly, Adidas sales in North America fell 24 percent in the recent quarter, and Chief Executive Officer Herbert Hainer said it's not looking up: "Honestly, I don't see a big improvement in the golf market in 2014."
 
Meanwhile, kids are going to buy soccer cleats and basketball shoes regardless of how much snow—or the Dow—falls. Indeed, sales of Adidas soccer gear and apparel were up 27 percent last quarter. Its business plan at the moment boils down to this bit of its earnings presentation this morning: "37 days until the World Cup."

Come June, Brazil could be peppered with golf-ball-size hail and those flying monkeys from The Wizard of Oz, and the world's football fans will still be snapping up national team jerseys ($90); kids from Chile to China will be whining for the crazy new cleat/sock hybrid Adidas is offering, the Primeknit FS. "The second quarter is definitely a football quarter and is definitely an Adidas quarter," Hainer said.
 
Five-hundred dollar golf clubs, meanwhile, can wait.
Before it's here, it's on the Bloomberg Terminal.
LEARN MORE