Wells Fargo's Mortgage Pain Proves Salve for Bond Market
Jody Shenn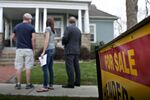 The U.S. mortgage-bond market is getting some relief as the Federal Reserve winds down purchases of the debt, with fewer new loans reducing supply.
While a plunge in mortgage volumes is prompting lenders including Wells Fargo & Co. and Toronto-Dominion Bank's U.S. unit to take steps such as loosening standards to lure business, it's proving a salve in a $5.4 trillion bond market tied to the loans. That's sent a measure of relative yields on securities that guide borrowing costs to the lowest since January 2013.
"The lack of supply is one of the reasons we've gotten a very muted reaction from the taper," said Daniel Hyman, co-head of mortgage securities with government backing at Pacific Investment Management Co., which oversees the world's largest bond fund. "We expect mortgages to be a good amount cheaper than they are today after the Fed's done buying, but with originations likely to stay slow," yield premiums will increase more gradually.
After a surge in interest rates last year killed a homeowner refinancing wave, mortgage bankers expected the housing recovery would temper the slowdown with increased demand from property buyers. Instead, applications for loans tied to home sales are 16 percent lower than a year ago and the Mortgage Bankers Association predicted for the first time last month that those originations will be down for the full year.
Trimming Purchases
The Fed said last week it would reduce its monthly mortgage-bond purchases in May by another $5 billion to $20 billion, down from $40 billion in December. Yields on Fannie Mae securities used to package new 30-year loans fell to within 1.13 percentage points of an average of five- and 10-year Treasury rates as of 10 a.m. in New York, from 1.22 percentage points at year-end, according to data compiled by Bloomberg.
Issuance of U.S.-backed mortgage bonds is set to fall to less than $843 billion this year, about $450 billion lower than the 14-year average, American Capital Agency Corp., the second-largest real-estate investment trust that buys mortgage debt, said in an investor presentation that cited a Morgan Stanley forecast. The bank's analysts lowered the prediction last month from $885 billion.
No 'Panic'
"It is really difficult to panic about the implications of lower Fed purchases against the backdrop of plummeting originations," American Capital Agency President Gary Kain said April 29 on a conference call.
The Mortgage Bankers Association, which in December was forecasting $711 billion of loans would be granted for home purchases this year, lowered the forecast last month to $626 billion. The Washington-based group cut its estimate for total mortgage volumes by $100 billion to $1.07 trillion, down from $1.76 trillion in 2013.
The lending slowdown has been fueled by an uneven economic rebound, higher rates, tight credit, rising home prices and more cases where investors are buying properties with cash.
Rates on a typical 30-year mortgage rose to 4.29 percent last week from a record 3.31 percent in 2012, as property prices jumped about 20 percent from a low that year. The finances of potential first-time buyers are also improving more slowly than other Americans.
Adjusting Standards
Employment among 25-to-34 year-olds, the prime ages for housing demand, slipped from an almost five-year high to 75.5 percent in April, and the rate "still isn't halfway back to normal," according to Jed Kolko, chief economist at real-estate information service Trulia Inc. in San Francisco.
Some lenders are adjusting standards to win business, with San Francisco-based Wells Fargo, the biggest, reducing its minimum credit score for Fannie Mae and Freddie Mac loans to 620 from 660 last month. New home loans at Wells Fargo last quarter tumbled 67 percent from a year earlier to $36 billion.
Third-ranked Quicken Loans Inc. began offering to almost fully qualify borrowers before they even pick out a home, President Jay Farner said. New York-based Equity Now Inc. is ramping up efforts to reach customers searching online and getting credit reports pulled by rivals, President Michael Moskowitz said. One lender even paid a $1 million bonus to woo a branch manager and his staff to benefit from their contacts with realty agents, industry consultant David Lykken said.
In the mortgage-bond market, BNP Paribas SA analysts have been suggesting since September that investors bet on tighter spreads as supply shrinks. They cut their year-end forecast for 2014 net issuance -- or new bonds minus repayments on existing ones -- in half last week to $75 billion.
JPMorgan Outlook
"The Fed is behind the curve on tapering in the context of issuance," Anish Lohokare, one of the New York-based analysts, wrote in an e-mail.
Analysts at JPMorgan Chase & Co., Citigroup Inc., Nomura Holdings Inc., Deutsche Bank AG, Bank of America Corp. and Credit Suisse Group AG also cut net or gross issuance predictions, usually both, since March.
JPMorgan's team led by Matthew Jozoff and Brian Ye, top-ranked last year by Institutional Investor magazine, lowered their net sales forecast by $25 billion to $125 billion, saying in an April 25 report the current "anemic" pace partly reflected a rise in all-cash purchases to 35 percent, from 15 percent five years ago. They are still saying investors should expect spreads on the most-active type of the debt to widen.
"While this admittedly helps the supply/demand balance modestly later in the year, it doesn't change the fact that the scales will tip negative" between the Fed's buying and net issuance by August, the analysts wrote.
Before it's here, it's on the Bloomberg Terminal.
LEARN MORE