Under White House Pressure, American CEOs Avoid Putin's Party
By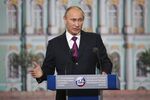 Hey, this just means more blini for Donald J. Umpleby III.
Following an intense campaign by the White House to get corporations to cooperate with efforts to isolate Vladimir Putin's regime amid turmoil in the Ukraine, the Caterpillar executive is among the few U.S. businessmen still planning to attend a Russian economic conference later this month.
The Obama administration's push, detailed last week by Bloomberg News and by the Financial Times and today by the New York Times, has succeeded in peeling off a number of chief executives who were listed on the St. Petersburg International Economic Forum website as confirmed participants, including Pepsi's Indra Nooyi, Alcoa's Klaus Kleinfeld, Visa's Charlie Scharf, Goldman Sachs's Lloyd Blankfein, and Morgan Stanley's James Gorman. As we wrote on April 24, American executives were caught awkwardly between a White House struggling to discipline Russia and their own financial interests in the world's eighth-largest economy. Pepsi, for example, counts Russia as its second-biggest market, with $5 billion of sales there last year.
Obama adviser Valerie Jarrett, Treasury Secretary Jack Lew, and other administration officials have been calling the companies' leaders, Bloomberg reported last week. The forum is sometimes referred to as "the Russian Davos," and Putin figures prominently amid the dealmaking, including a scheduled May 23 keynote speech.
Putin's deputy economy minister, Sergei Belyakov, appeared on Rossiya 24 state television today to discuss the new RSVPs. As noted by Bloomberg's Scott Rose, Belyakov said that American companies would lose more from skipping the event than Russia would—and that while Russia won't let their absence affect their business in the country, Russia will boost cooperation with the companies that do show up.
Before it's here, it's on the Bloomberg Terminal.
LEARN MORE