Trading on Goldman's Interest Rate Speculation
by
Today the Organization for Economic Cooperation and Development (OECD) lowered its global growth forecast to 3.4 percent. Breaking down the data regionally, we find multiple culprits and one surprising bright spot: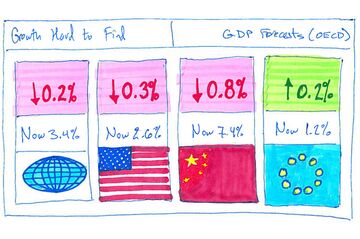 This reduced outlook marks the second time in six months OECD economists have lowered their forecast for global growth, echoing Pimco's view of a "new normal" where sub-par growth remains longer than many expect.
Goldman Sachs Chief Economist Jan Hatzius shares this view. Yesterday we had the pleasure of joining him on a panel to discuss Federal Reserve policy at a conference sponsored by Blackrock, Inc. He told money managers in attendance to expect lower rates for a longer period of time, arguing capital expenditures by corporations and broad wage gains have yet to materialize. He sees "no signs" of the usual wage-price spiral described by former Fed Vice Chairman Alan Blinder as the essential driver of inflation.
Mr. Hatzius believes the Fed funds target (the rate at which banks borrow from the Fed on a temporary basis) will remain at zero through early 2016, six to nine months longer than consensus. By the same token, he says the extra amount of time spent at zero will necessitate an accelerated timetable for subsequent increases. Hence his view: Later start … steeper path.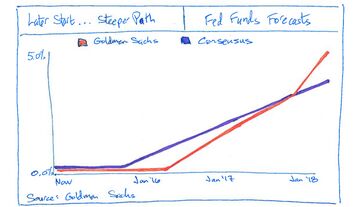 Bond traders are taking note. They've narrowed the spread between two-year and ten-year U.S. government bonds from 266 basis points on December 31 to 219 basis points today. (A basis point is the equivalent of 0.01 percentage points.) This level is critical, as seen on the following chart. Any further contraction would represent a significant breakdown.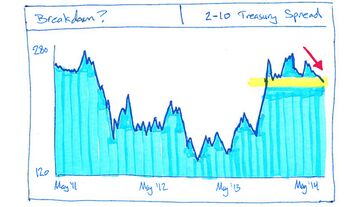 Investors seeking to benefit from this narrowing differential (concurrent with Mr. Hatzius' view) would simultaneously buy the U.S. 10-year note future and sell the U.S. 2-year Treasury future. If indeed growth takes longer to materialize, the Yellen Fed has already made clear it will maintain the Bernanke policy of remaining "highly accommodative for an extended period."
Before it's here, it's on the Bloomberg Terminal.
LEARN MORE