South Sudan's Kiir, Machar Set to Meet in Ethiopia
William Davison and Mading Ngor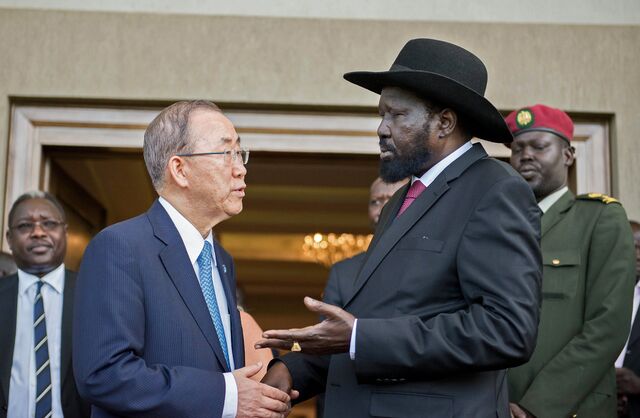 South Sudanese President Salva Kiir and rebel leader Riek Machar plan talks in Ethiopia this week to end a conflict that has lasted almost five months, an African mediating group said.
The leaders "are set to meet" in Addis Ababa on May 9, the Intergovernmental Authority on Development, an East African bloc that has been mediating in the conflict, said in an e-mailed statement late yesterday. Delegations from both sides have begun "tackling substantive issues that address the root causes of the crisis" as well as arrangements to more effectively implement a Jan. 23 truce, it said.
Fighting erupted in South Sudan on Dec. 15 with Kiir accusing Machar of plotting a coup, a charge Machar denies. Kiir dismissed his entire cabinet, including Machar, in July after his leadership was challenged by rivals that said he was becoming increasingly dictatorial. The violence has left thousands of people dead and forced more than a million to flee their homes, according to the UN.
Kiir told reporters earlier in South Sudan's capital, Juba, that he's ready to meet Machar to discuss a halt to the conflict. United Nations Secretary-General Ban Ki-moon, speaking alongside Kiir on a visit to the world's newest nation, said he would urge Machar to participate.
Machar confirmed to his delegation in Ethiopia that he will meet Kiir on May 9, Mabior Garang, a spokesman for the rebels, said in a phone interview today from Addis Ababa, the Ethiopian capital.
Sanctions Imposed
U.S. Secretary of State John Kerry said in Washington yesterday that he was hopeful that the meeting "could be the beginning of a dialog."
Kerry blamed both sides for failing to uphold the January cease-fire agreement. He said the U.S. is imposing sanctions on two military leaders, one from each side, who were involved in violence against civilians.
Government forces on May 4 recaptured the rebel stronghold of Nasir and Bentiu, the capital of oil-rich Unity state, drawing criticism from the U.S. for violating a January truce. Fighting between government troops and insurgents continued in Bentiu yesterday, army spokesman Philip Aguer said by phone from Juba.
South Sudan's crude output has fallen by about a third to 160,000 barrels per day since the violence began, according to the Petroleum Ministry. Machar had vowed to seize oil fields in Upper Nile, the only state still pumping crude, to starve the military of revenue.
China National Petroleum Corp., India's Oil & Natural Gas Corp. and Petroliam Nasional Bhd., the main producers of South Sudan's oil, evacuated some employees from the country because of the violence.
Before it's here, it's on the Bloomberg Terminal.
LEARN MORE