Obama Overhaul Has Health Care Dominating 2014 Rally
Michelle Kaske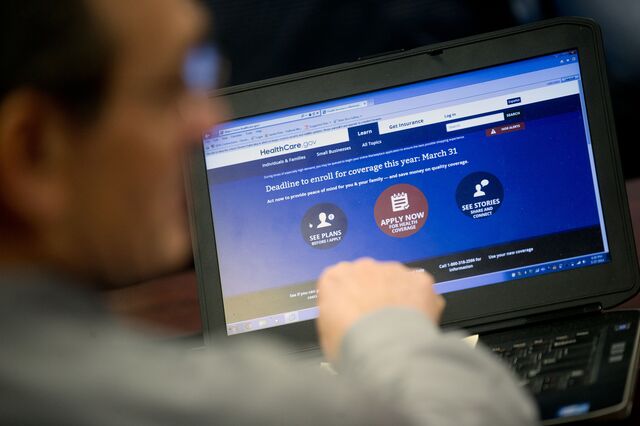 Debt for health-care projects is beating all areas of the $3.7 trillion municipal market on bets Obamacare will curb the number of non-paying patients.
Health-care securities, including debt for nursing homes, have earned 6.4 percent this year, the most of eight revenue-bond segments tracked by S&P Dow Jones Indices, while the broader market has earned 5 percent. Last year, health care and the entire market lost about 2.6 percent.
With municipal interest rates at 11-month lows and defaults in decline, investors have more appetite for the lower-rated obligations that hospitals typically issue. At the same time, the 2010 Patient Protection and Affordable Care Act is shrinking the pool of the uninsured in part by requiring those without coverage to buy it.
"It provides a level of stability to the marketplace in terms of knowing that the majority of people are actually covered and you're not going to have this charitable-care component that really varies from year to year," said Lyle Fitterer, a managing director who helps oversee $31 billion of munis at Wells Capital Management in Menomonee Falls, Wisconsin.
Signing Up
The share of American adults without insurance fell to 13.4 percent in April from 15.6 percent last quarter, Gallup said yesterday, attributing the drop to Obamacare. About 8 million Americans signed up for private plans using the law's new insurance exchanges. The uninsured rate is the lowest in Gallup's survey since 14.4 percent in the second half of 2008.
Hospital munis are also participating in the rally, earning 6.3 percent this year, according to S&P. Yet the pickup in demand for health-care securities extends beyond the municipal market. Corporate health-care debt has earned 4.8 percent this year through May 2, compared with 4.6 percent for all company bonds, according to Bank of America Merrill Lynch data.
Even as the municipal market is off to its best annual start since 2009, riskier local bonds are faring best, with high-yield munis earning 7.6 percent, S&P data show. Junk-grade muni mutual funds have added cash for 17 straight weeks, the longest stretch since 2012.
Bank of America's hospital muni index has an average credit rating four levels below the top, one step weaker than the broader local-debt market.
April Sale
Last week, the City of Royal Oak Hospital Finance Authority sold $437 million of tax-exempt revenue bonds for William Beaumont Hospital Obligated Group. The system's biggest hospital is in Royal Oak, outside Detroit. Proceeds will refund debt.
Moody's Investors Service rates the securities four steps below benchmark munis. Debt maturing in September 2039 priced to yield 4.42 percent, or about one percentage point above top-rated munis, data compiled by Bloomberg show.
Hospital securities have had fewer payment defaults than other types of munis. The institutions have missed principal and interest payments on $282 million of debt, the smallest segment of the $11.4 billion of munis where issuers are in payment default, according to Concord, Massachusetts-based Municipal Market Advisors.
Poverty Line
The Affordable Care Act makes Medicaid available to people earning as much as 133 percent of the federal poverty line -- $11,670 for individuals and $23,850 for a family of four, according to HealthCare.gov. That makes about 30 percent of the uninsured population eligible, Michael Zezas, Morgan Stanley's chief muni strategist in New York, wrote in a May 1 report.
What's more, an additional 27 percent of low-income individuals without coverage qualify for subsidized insurance through exchanges, Zezas wrote.
That makes health-care institutions' revenue more reliable, Fitterer said.
"While you don't necessarily make a ton of money on the patients that you're seeing through the Affordable Care Act, you're not losing money on them and you get more volume," Fitterer said.
People who are ineligible for Medicaid or subsidized insurance must buy coverage or pay a fee. The enrollment period for getting insurance for 2014 ended March 31. Individuals without coverage will pay a fine on their 2014 taxes of $95 per person or as much as 1 percent of household taxable income, whichever is higher.
Overweight Recommendation
Hospital munis are rallying even as the institutions face lower payments from Medicare, the federal program that provides insurance to those 65 and older. The Affordable Care Act will reduce Medicare reimbursement to hospitals by an estimated $260 billion over 10 years, Zezas wrote. That will help finance the expansion of Medicaid, which covers health-care costs for people with limited incomes.
With more insured patients, the revenue boost will make up for declining reimbursements, Zezas said in an interview. The company recommends investors overweight health-care munis.
As more people qualify for Medicaid, that may present buying opportunities in munis for systems that have struggled with charity costs and unpaid services, said Bill Black, who manages Invesco Ltd.'s $6.5 billion High Yield Municipal Fund in Oakbrook Terrace, Illinois.
"It could be a credit positive," Black said. "It might be a reason to get involved in a hospital that's had more difficult times over the past few years."
19 Forgo
Not all states plan to participate in the expansion. Nineteen states aren't partaking and five haven't weighed in, Zezas wrote. States that join are expected to see the biggest decline in residents without some form of coverage, he wrote.
Arkansas, Hawaii, Kentucky, Ohio and West Virginia -- which are joining -- are estimated to have a 37 percent drop in uninsured, the biggest amount, Zezas wrote. Residents without health-care coverage in North Carolina and Texas, states that won't participate in Medicaid's growth, will decrease by 19 percent, the lowest reduction.
Jurisdictions that aren't expanding the program will still have residents that must buy insurance on their own, Zezas said.
Before it's here, it's on the Bloomberg Terminal.
LEARN MORE