In This Ukrainian Region, an Oligarch Governor Pays to Keep Peace
By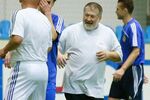 News reports from the Ukrainian city of Dnepropetrovsk this week showed flames blazing against the night sky. More chaos in the country's troubled east? No, it was just an ordinary fire in an abandoned cheese factory. Firefighters quickly extinguished it.
Dnepropetrovsk and its surrounding region—Ukraine's second largest, with a population of 3.5 million—are an island of calm amid the violence gripping the nearby Donetsk and Luhansk regions. Dnepropetrovsk's peacekeeper-in-chief: an oligarch named Igor Kolomoyskiy who was appointed regional governor earlier this year by the new government in Kiev. Kolomoyskiy, an outspoken, bearded fireplug of a man, has ridiculed Vladimir Putin, calling the Russian president "a schizophrenic of short stature." (In reply, Putin called Kolomoyskiy, who amassed a fortune of several billion dollars from banking and other businesses, "a unique crook.")
Kolomoyskiy's most dramatic act as governor has been to offer cash incentives to deter unrest. He's offered a $10,000 bounty for any foreigners caught engaging in "subversive activities" in the region, as well as cash rewards for the seizure of machine guns and grenade launchers. His PrivatBank, Ukraine's biggest bank, even put up a billboard offering "$10,000 for every Moskal," an insulting term that Ukrainians use to describe Russians. It's not clear where the money is coming from or how much has been paid out; phone calls and e-mails to the regional government's press service were not answered.
Visible unrest has been lacking in Dnepropetrovsk since Kolomoyskiy took over. In a move said to have been inspired by the Swiss army, his administration is training local citizen brigades to defend their communities against possible aggression. "Dnepropetrovsk will shoot from every window if the Russian soldiers try to climb in," regional defense chief Yury Bereza said in a recent radio interview. The government considers locals who publicly support separatism to be "delinquent" and subject to investigation, Bereza said.
A mid-April poll by the Kiev International Institute of Sociology for the Kiev newspaper Mirror Weekly found that only about 9 percent of Dnepropetrovsk residents supported armed takeover of government buildings, compared with almost 20 percent in Donetsk and 25 percent in Luhansk.
Now, Kolomoyskiy wants to extend his unique crisis-management model to other regions. He's convening a meeting in Dnepropetrovsk on May 11 to set up what his press service described in a statement as an "inter-regional council" to discuss security issues in southern and eastern Ukraine. The statement says the group "will consider the possibility of changing administrative boundaries"—in other words, inviting crisis-wracked regions such as Donetsk and Luhansk to annex themselves to Dnepropetrovsk.
Could Kolomoyskiy, and possibly other oligarchs, help put a stop to Ukraine's spiraling violence? Maybe—at least temporarily, says Lilit Gevorgyan, an analyst at IHS Global Insight in London. Ukraine's oligarchs "are not just business people; they are part of the regional power structure and economic structure," she says. "These quasi-state structures in some ways are far better functioning" than the government itself.
The problem is that public outrage over the oligarchs' control of the economy was a key reason for the protests that led to former President Viktor Yanukovych's ouster. Inviting the oligarchs back to calm the violence "complicates the whole idea of bringing revolutionary change and fighting nepotism," Gevorgyan says. If Ukrainians "see that the new authorities are cutting deals with oligarchs, it could reinforce the view that there was not a change of the system, but just a change of power."
There also may be some practical problems with Kolomoyskiy's approach. News service InUkrNews reported this week that residents seeking cash rewards have submitted so many questionable claims about subversive activity that the regional government had to issue a warning that "friends, relatives, acquaintances, and dubious citizens should not be denounced as saboteurs and separatists."
Before it's here, it's on the Bloomberg Terminal.
LEARN MORE