Heavier Rains and Extreme Heat: Climate Change Gets Personal
By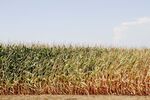 The typical report on climate change goes something like this: "Glaciers yadda yadda sea level yadda yadda greenhouse gases yadda yadda parts per million." Except more boring than that.
The National Climate Assessment, released today by the Obama Administration, tries to shake people awake by making climate change up close, personal, and present, rather than abstract and in the future.
"Corn producers in Iowa, oyster growers in Washington State, and maple syrup producers in Vermont are all observing climate-related changes that are outside of recent experience. So, too, are coastal planners in Florida, water managers in the arid Southwest, city dwellers from Phoenix to New York, and Native Peoples on tribal lands from Louisiana to Alaska," the report says.
The chart at the top of the page is a good example. It's about heavy rain. It shows that in the Northeast, there's been a 71 percent increase since 1958 in the share of all annual rainfall that comes down in the heaviest 1 percent of storms. In Hawaii, there's been a 12 percent decrease.
In the Southeast, the big regional story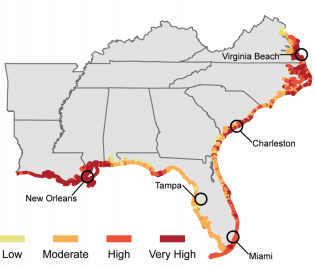 is vulnerability of coast lines to rising sea levels—not just the concept, but which cities are in greatest danger.
In the Midwest, the report focuses on increases in flooding and extreme heat. "High temperatures during early spring, for example, can decimate fruit crop production when early heat causes premature plant budding that exposes flowers to later cold injury, as happened in 2002, and again in 2012, to Michigan's $60 million tart cherry crop," the report says. It's easier to relate to tart cherry farmers than to concentrations of carbon dioxide in the atmosphere.
The risk of this up-close-and-personal approach is that it could make some fence-sitters on climate change feel manipulated. The atmosphere is a complex system, and scientists don't know enough about it to trace every regional variation in climate straight back to global warming.
The benefit is that there's a strong scientific consensus that on the whole, climate change is causing an increase in extreme weather. The authors of the National Climate Assessment are betting that people will be more impressed by shoreline scouring in the Great Lakes than by the latest prediction regarding average sea temperatures in the western Pacific a century from now.
Before it's here, it's on the Bloomberg Terminal.
LEARN MORE